This project is part of the SCI North South Programmes. Volunteers should be 20 years old, have previous volunteering experience and take part in the Preparation Workshops organised by their sending branch. More details from your sending branch.

Camp code:
TW-VYA 12.2011
Country:
Taiwan, Republic of China
Topic:
12: Art, culture and local history
Work Types:
Art / Teaching / Environment
Free places for Females:
3
Free places last update:
28 Feb 2020
International age:
18 - 99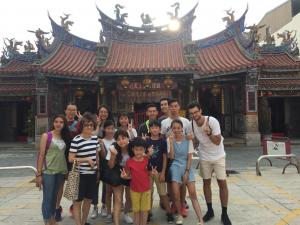 Description: "LOHAS in Jianan Village" International Workcamp, can provide opportunities for the children of Jianan Community to broaden their views and build connection with the world. Jianan Community is a traditional agricultural community, which has few job opportunities and less leisure and entertainment. In order to get a job, some of residents are forced to leave their homes. Meanwhile, their children still stay in the Jianan community to study and live with their grandparents, lead to the increase of skipped generation families. Not to mention the slow pace of life and limited information result in narrow horizon and weak intention of students.
Type of Work: 1. English Summer Camp: cultural exchange; Introduce national traditions & celebrations.
Community care experience: accompany and care elders
Exchange of opinions about Jianan community: Evaluation and sharing.
Accommodation: 1) During project, volunteers will stay at share room within Chying Chyuan Junior High School . 2) Volunteers need to bring own sleeping bag 3) We provide a living room with a small kitchen and a bathroom. 4) Volunteers can hang clothes to dry on the first floor.
Approximate Location: No. 27-2, Lin-Hai Rd., Qingshui Dist., Taichung City 436, Taiwan
Google Map: https://www.google.com/maps/place/%E6%B8%85%E6%B3%89%E5%9C%8B%E4%B8%AD/@24.3058279,120.5903313,17z/data=!3m1!4b1!4m5!3m4!1s0x346913b41fcf6d47:0x58924b10ba4dbdb6!8m2!3d24.305823!4d120.59252