ECO=HAPPY: life in ecovillage and eco festival
Country:
Russian Federation
Topic:
11: Climate and sustainable lifestyle
Work Types:
Construction / Environment / Festival
Free places for Females:
3
Free places last update:
28 Mar 2020
International age:
18 - 99
Required Language:
English
Spoken Language:
English, Russian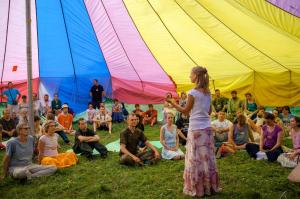 Description: Come and become part of the community that is ready to share with you love of the Nature and an environmentally friendly lifestyle! Volunteers are invited to help on the territory "Into the Happiness", which is part of the settlement Milenki, one of the oldest ecovillages in Russia. It is surrounded by beautiful forests and fields, attracting all those interested in living in the family eco-settlement, calming their mind from the city rush, and also acquiring new practical knowledge and skills in environmental technologies. Besides, volunteers will help to prepare festival of EcoTechnologies festival which will take place from August 6th to 9th, 2020. Main topics of the event this year are: ecology, sustainability and personal self-realisation in harmony with the environment.
Type of Work: A lot of outdoor work on general maintenance of the territory, gardening, building a new community center, preparing site for the festival of Eco-technologies and constructing various art-objects for this event. Volunteers are expected to be resistant to weather changes and physically demanding tasks, so please, be brave and flexible :) You will work along with national volunteers and under the supervision of specialists. Big variety of tasks will give an opportunity for everyone to be helpful.
Study Theme: During their free time volunteers can enjoy swimming, fishing, board games, outdoor games with the team, rope course, etc. Some trips to the museums will be organised, and a tour around the family settlement of Milenki. During the festival various activities are going to be held, so you can participate in educational workshops, workshops on traditional crafts, eco-technologies, disclosure of voice, try delicious green cocktails, sing songs by the fire and many more!
Accommodation: Accommodation in the summer guest houses, bed linen and blankets are provided. We recommend you to bring a sleeping bag as well, so it will be warmer. There are organic toilets and summer showers with heated water. You can use the washing machine every 5 days. Three vegetarian meals per day plus a tea break are provided; help in the kitchen may be needed! Also please keep in mind that the volunteers will have cleaning duties throughout the entire stay in the camp.
Requirements: Open-minded, skilled and active volunteers, who share the values eco-lifestyle are warmly welcomed :)
Approximate Location: Territory "Into the Happiness" of the ecovillage Milenki, Kaluga region, close to the National Park Ugra. Volunteers will be met by the local host at train station Kaluga on the day of arrival and brought back at the end of the camp.
Notes: "Into the Happiness" is a preserved area, where alcohol and drugs are prohibited. Smoking is possible only in designated zones. It is also a bit isolated from big cities, so please plan your days in Moscow and other sightseeing trips before or after the camp's dates.
Organization Description: Non-governmental and non-profit making organisation "Passage-Zebra" is active in Russia since 1998. Main fields of activities: international workcamps (in Russia), long-term volunteering in natural preserves and parks, study projects with language learning and teaching (including Russian language), building cultural bridges.