SAVE THE HISTORY! "Tom Sawyer Fest" movement
Country:
Russian Federation
Topic:
12: Art, culture and local history
Work Types:
Construction / Cultural heritage / Restoration, renovation
Free places for Females:
3
Free places last update:
25 May 2020
International age:
18 - 99
Required Language:
English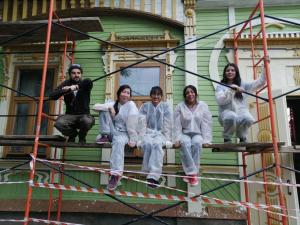 Description: Have you ever heard about a boy named Tom Sawyer whose aunt Polly asked him to paint her fence? Being a lazy but very smart kid, Tom started to paint so hard and passionately that everyone around begged him to let them paint it too, and the work was done much faster. That's how the hero of Mark Twain's most book gave his name to the festival of the restoration of cultural and historical habitat "Tom Sawyer Fest". This voluntary movement brings together enthusiastic people in different cities of Russia in an effort to restore wooden buildings that lack the official status of cultural heritage object, but mean a lot to the citizens and their history. That helps the local community to believe that they can make the city a more beautiful place to live in and save what is important to them.
Type of Work: Help with the restoration of wooden buildings of the XIX-early XX centuries – cleaning of facades, priming, painting. Various skills could be obtained depending on the area of working: cleaning wood from the old paint, priming, painting, plastering, working with hand and power tools (grinder, angle grinders), painting. No prior knowledge is needed! All works will be supervised by specialists and held mostly in the afternoon and evening time.
Study Theme: Working hand in hand with Russian volunteers is a great chance to get to know traditions, culture and learn a bit of Russian language (or improve your level!). Samara is a beautiful city on the bank of Volga river and 9th biggest city in Russia. It has a lot to offer including museums, theatres, cinema, big public beach, river boat walks, etc. Concerts and various excursions will be organized. Please keep in mind that you may need to cover entrance fees to museums and other cultural sights.
Accommodation: Accommodation in the premises of catholic hostel, sleeping space is separated on male and female parts. There is a big kitchen with all the necessary equipment, bathrooms, etc. Please bring your own sleeping bag. Volunteers will be provided with the products and going to cook together. Please notify us on your dietary needs.
Requirements: Volunteers should be ready to work with different tasks and don't mind manual labour.
Approximate Location: Samara, Russian Federation. On the date of arrival our group will be met by the local host at the train station or airport and brought to the hostel.
Notes: The festival began in 2015 in Samara, and by 2019 had involved 50 cities and towns in different parts of Russia. A UNESCO Report on Culture for Sustainable Urban Development highlighted Tom Sawyer Fest as an example of successful urban and social initiative with high resident engagement. All restoration and reconstruction activities are carried out by volunteers only with help from sponsors and fundraising.
Organization Description: Non-governmental and non-profit making organisation "Passage-Zebra" is active in Russia since 1998. Main fields of activities: international workcamps (in Russia), long-term volunteering in natural preserves and parks, study projects with language learning and teaching (including Russian language), building cultural bridges.