English, martial arts and unique Buryat culture
Country:
Russian Federation
Topic:
7: Children and youth
Work Types:
Teaching / Work with children / Sport
Number of places still available:
3
Free places last update:
28 Mar 2020
International age:
18 - 40
Required Language:
English
Spoken Language:
English, Russian
Motivation letter:
This camp requires an additional motivation letter to explain in more detail why you would like to attend.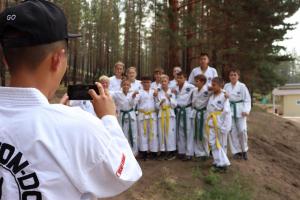 Description: We can bet you do not know much about the mysterious Republic of Buryatia, region of Russia that is situated in South Central Siberia, close to Mogolian border. And you have to know more as Buryatia has a lot to offer! It has an interesting mix of many cultures, its own Buryat language, cuisine and stunning natural sights like famous Lake Baikal, the deepest lake on Earth. Plus to this, choosing to volunteer in this camp you'll have an opportunity to learn more about Korean martial art called Taekwondo, as volunteers are invited to the summer camp for young Taekwondo athletes. Autumn 2020 they will participate in the Taekwondo World Cup in Slovenia, so it is perfect time for kids to repeat English rules and have some speaking practice.
Type of Work: Main activity of volunteers is to conduct English lessons for young athletes. All children are aged between 9 and 14 years old, there will be around 200 students (in sum for two sequential arrivals). They already know some basics, but have to improve their knowledge and, most importantly, stop being afraid of having conversations in English during international competitions. Children will have a lot of sport trainings, so meanwhile volunteers will get involved in the preparation of leisure activities and evening events, together with local campleaders.
Study Theme: You can learn the basics and philosophy of Taekwondo, and surely get acquainted with the history and culture of Buryatia. Trips to Ulan Ude and to Baikal lake will be organized, so you'll see one of the true "pearls" of Russia with your own eyes!
Accommodation: In the camp there are several buildings for accomodation of kids and the staff, canteen and swimming pool. International volunteers may be placed with local camp-leaders. Bed linen will be provided. All meals will be served in the canteen. Unfortunately, there is no opportunity to have a full vegetarian menu, but in case of special dietary needs you may choose only veggie dishes/side dishes.
Language: Good command of English is required (min. B2 level).
Requirements: Please attach a motivation letter to your application.
Approximate Location: Summer camp is located in the village Verkhniy Sayantui, around 40 minutes by car from the city of Ulan-Ude. All the participants will be met by the local host in the city and brought to the campsite.
Notes: We ask you to prepare the content of English classes, games and exercises, bringing all the materials with you or letting us know what you need in advance. Also it would be great if you can bring your national costume/games/songs and dances for the cultural evenings. Please note there is no Wi-Fi in the camp, but you may use mobile network or ask for the hotspot. We also recommend to buy flight tickets to Ulan-Ude in advance.
Organization Description: Non-governmental and non-profit making organisation "Passage-Zebra" is active in Russia since 1998. Main fields of activities: international workcamps (in Russia), long-term volunteering in natural preserves and parks, study projects with language learning and teaching (including Russian language), building cultural bridges.