Festival "Green Guitar": beauty of Mordovia
Country:
Russian Federation
Topic:
12: Art, culture and local history
Work Types:
Environment / Festival / Manual
Free places for Females:
4
Free places last update:
28 Mar 2020
International age:
18 - 99
Required Language:
English
Spoken Language:
English, Russian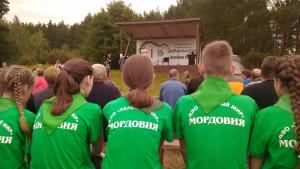 Description: Fresh air, dense forests and green fields, unique Mordovian culture, musical festival and poetry of famous Russian writer Alexander Pushkin... Is there any better way to get to know the real country than to spend couple weeks on this project? You will live in a real wooden house surrounded by pines and birches, take Russian sauna called "banya", eat traditional buckwheat "grechka" and work hand in hand with local volunteers! National park "Smolniy" invites international volunteers to help with the preparation of a guest area on its territory and organization of a small non-profit music festival "Green guitar". In return, you'll have an opportunity to enjoy many cultural activities and events in the Republic of Mordovia.
Type of Work: In general, project consists of two parts. First one will be dedicated to general maintenance and construction of the guest area (сleaning paths and roads from fallen trees, preparation of winter feeding for animals, clearing the territory of garbage, etc). In the second part volunteers will work directly with preparation of the festival site (construction, decoration, welcoming guests). Festival itself starts on August 22nd, so participants will have a chance to rest a bit more and enjoy its program (or even participate as performers!). Work is around 6 hours per day with the weekends.
Study Theme: In your free time you can enjoy various activities like swimming (there is a lake on the territory), playing games and, of course, enjoying the festival events. There is an evening of international cuisine will be organised, so don't forget to bring some recipes from home. On the weekends trip to Boldino, the museum-reserve of the great Russian poet A. Pushkin, and trip to one of the host-cities for 2018 FIFA World Cup – Saransk (with visits to Erzya museum, National Mordovian museum, Ushakov cathedral, Mordovia arena) are planned.
Accommodation: Accommodation in two big houses with beds. There is NO need to bring your own sleeping bag, but you can bring an additional blanket. Volunteers will have an opportunity to use "banya" - traditional Russian sauna; you can also take shower there. Breakfast will be prepared by volunteers (tea/coffee, muesli, oatmeals, jam, butter). Lunches and dinners are cooked in the field kitchen by chefs, with the help of two volunteers. Remember that the choice of products will be limited, since the project is carried out in a forest area. Vegetarian menu is possible.
Requirements: Be ready for manual labour and a lot of physical activities outdoors. Preparing festival sites has never been an easy task ;)
Approximate Location: National park "Smolniy", Republic of Mordovia. Local host will meet volunteers in the city of Saransk at 9 a.m. on August 10th and bring the group to the campsite (as well as back to the train station/airport on the last day of the project at 10 a.m.).
Notes: If you sing or play any musical instruments, please let us know in advance! You're highly encouraged to take part in the festival not only as a volunteer but also as an artist.
Organization Description: Non-governmental and non-profit making organisation "Passage-Zebra" is active in Russia since 1998. Main fields of activities: international workcamps (in Russia), long-term volunteering in natural preserves and parks, study projects with language learning and teaching (including Russian language), building cultural bridges.