Volunteering in the Nature Park Karwendel
Topic:
10: Environment protection
Work Types:
Construction / Environment
Free places for Females:
6
Free places last update:
27 Feb 2020
International age:
18 - 99
Required Language:
English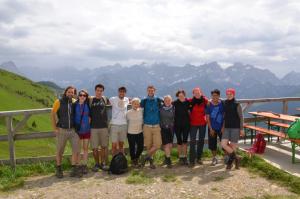 Description: The Karwendel is Austria's largest nature park and one of the most conserved and wild areas in the Alps. There are almost no residents within the area and most parts of the Karwendel are isolated. The participants will experience daily life in the mountains and will be able to enjoy stunning views of the surrounding landscapes. This is the 5th time SCI volunteers work in the Alpine Park Karwendel. The camp will take place on Thaurer Alm, which is a mountain pasture on 1464 m above sea level. In summer they have a lot of cows around the hut that graze the pastures. More information: https://thaureralm.at/
Type of Work: This camp includes physical work. The main task will be pasture maintenance, carrying stones and other material to/from the willows. Other tasks include removing small trees and bushes.
Study Theme: The volunteers will learn about cultural and ecological aspects of the Alps. They will learn about the traditions around agricultural settlements on high pastures as well as about climate, vegetation and specialties of the Natura 2000 area that the camp is situated in. There is a possibility to do beautiful hiking trips.
Accommodation: Volunteers will sleep in beds, but should bring their own sleeping bag. Mostly traditional food from Austria and especially from Tyrol will be served in the hut. The accommodation is simple and quiet isolated on the mountain: There is almost no mobile reception, no WiFi and only cold water for showers.
Language: English
Requirements: Small letter of motivation is required. It is especially important that you have mountainous experience, because you will have to hike to some of the working sites before starting work and because most of the work will be in relatively steep areas. You should be in good physical health and motivated to live in an isolated, non-urban environment. You should have good hiking boots.
Approximate Location: The camp will be organized in Tyrol, in the Western, mountainous part of Austria. The camp site will be close to Innsbruck, which is the capital of the region.
Notes: Feel free to read the 2014 report of this camp, which partly took place in the same spot: http://www.sci.or.at/volunteering-in-the-alpine-park-karwendel-july-2014/ For more information about the area go to the website of the Alpine Park: http://www.karwendel.org
Organization Description: SCI Austria is the Austrian branch of Service Civil International, founded in 1947 and based in Vienna. We are mainly volunteers who have been on international workcamps ourselves and who want to organize meaningful and critical projects in our country as well.