Renovating Heritage Houses in Xiluo Town
This project is part of the SCI North South Programmes. Volunteers should be 20 years old, have previous volunteering experience and take part in the Preparation Workshops organised by their sending branch. More details from your sending branch.

Camp code:
TW-VYA 12.2015
Country:
Taiwan, Republic of China
Topic:
12: Art, culture and local history
Work Types:
Restoration, renovation
Free places for Females:
5
Free places last update:
27 Feb 2020
International age:
18 - 99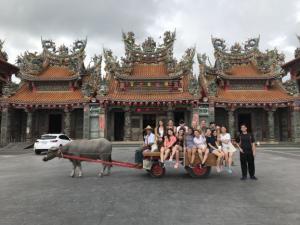 Description: Because of the "Community Renaissance" movement conducting by the Luoyoung Foundation and local government, the street becomes fabulous! In the past 7 years, we have invited many cultural groups and artists to long stay in Xiluo, and host different performances. We also hosted 7 international work camps which were focused on renovate heritage houses. During the first week we will visit a winery in Gukeng to make fruit wine and help to clean a forest. After, we will repair another old house on Yenping road、clean the old street & we will Make Bamboo art creation. We would like to invite international friends come to join us. It's not just only about voluntary work but also about learning Taiwanese culture and joining a different life experience.
Type of Work: 1.Greeting meeting:21 Jul. Prepare an introduction about yourself.(about 5 mins, you can make a brief PowerPoint to present yourself
Work A:Make fruit liquid and help us to clean the forest in Gukeng Work B:Help us to clean the old houses Work C:Make Bamboo art creation 3.Culture Night:Please prepare one dish from your country, a PowerPoint to introduce your Country and any activities or gifts to share with community and volunteers.
You can plan your own schedule on Free Day, and the Kung-Fu learning is free joining.
Volunteers will prepare dinner by turns, and you can get the opportunity to visit traditional market.
Accommodation: We will stay in Xiluo International Volunteer House (No.72). The house is near Xiluo Cultural Museum, there are comfortable beds, air conditioner, toilet, hot shower (only one, so we suggest boys can go to No.81 which is the Xiluo backpacker house.) and kitchen in the House. Volunteer will have a great time here for sure. The backpacker house is just near by the working place. And the backpacker house belongs to Rotary Club of Xiluo. They always welcome the volunteers and because of their kindness, we have to keep good management (to always keep clean, no smoking inside building, etc.).
Approximate Location: Location: Xiluo Township, a historical place in Yun-Lin County, located in central Taiwan. 50 minutes to Taichung City by bus, 2.5-3.5 hrs by bus from Taipei City.
Google Map: Louyoung Cultural &Education Foundation財團法人雲林縣螺陽文教基金會 https://www.google.com/maps/place/Louyoung+Cultural+%26Education+Foundation%E8%B2%A1%E5%9C%98%E6%B3%95%E4%BA%BA%E9%9B%B2%E6%9E%97%E7%B8%A3%E8%9E%BA%E9%99%BD%E6%96%87%E6%95%99%E5%9F%BA%E9%87%91%E6%9C%83/@23.801842,120.4602953,17z/data=!3m1!4b1!4m5!3m4!1s0x346eb43f1cc0d15b:0xd873ab569fc9fcc2!8m2!3d23.801842!4d120.462484