Agro-living Wellness at "Dragon Lake" Town
This project is part of the SCI North South Programmes. Volunteers should be 20 years old, have previous volunteering experience and take part in the Preparation Workshops organised by their sending branch. More details from your sending branch.

Camp code:
TW-VYA 12.2018
Country:
Taiwan, Republic of China
Topic:
12: Art, culture and local history
Free places for Females:
5
International age:
18 - 99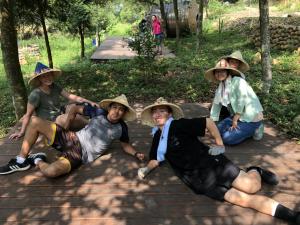 Description: This is most suitable for those especially interested in the life of a rich culture and tranquility, and perfect for people who understand the concept of giving is more rewarding, and this time, the volunteers will not only be giving their time and energy into agricultural work, but will also be spending time with the teens and being their role model. The villagers spend their lives mostly within their community, this program provides them with the amazing opportunity to learn English, as well as embrace other cultures, from international volunteers.
Type of Work: We will continue to focus on tea harvesting and making environmental sustainable rammed earth bricks. Using raw materials such as soil, straw and gravel found locally which will teach volunteers the environmental effects and sustainability for the habitat. The bricks will be used to build houses for the community in the future. This will not only be a labor intense experience but also a spiritual cleansing journey for you
Accommodation: Primary School or Community center. Sleeping bag is required! Food will be offered by local people but volunteers will have a chance to cook in some cultural exchange events.
Approximate Location: The township is known for the Buddhist temple in the center of Longtan Lake. It is north of Taiwan, locates in the same city as the Taoyuan International Airport. It was also voted the most distinctive town in Taiwan 2015
Google Map: https://bit.ly/2EMytyc