Communitarian life after the earthquake in the Amatrician Basin
Topic:
13: Community life
Work Types:
Environment / Manual / Social
Number of places still available:
2
Free places last update:
23 Jun 2020
International age:
18 - 99
Required Language:
English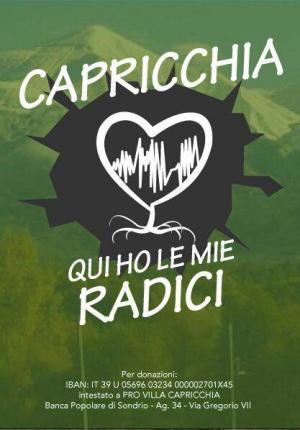 Description: The association Pro Villa Capricchia was created to carry out activities of social utility and environmental development while contributing to the improvement of the quality of life of the residents of Capricchia, a village in the province of Rieti. It started the initiative "SOS Capricchia" that is dedicated to the management of the emergency, the reconstruction of the common spaces and the infrastructure of Capricchia, that was seriously damaged by the earthquake of 24 August 2016. In addition, the association aims to support the residents of the village in laying the foundation of the social and economic rebirth of the community of Capricchia while working in cooperation with institutions, other organizations and volunteers.
Type of Work: In order to regenerate sustainable tourism in the earthquake-affected areas, the association Pro Villa Capricchia built small wooden houses to host tourists registered at the Pro Loco. In relation to that, the volunteers will carry out various activities such as: support the population of Capricchia and the Pro Loco activists in the preparation of meals for guests, in the maintenance of the structure and common facilities, organization and preparation of artistic performances (theatre, music, entertaining games, etc) in the evenings for and with the village community and guests.
Study Theme: The study part will focus on a model of autonomous management of the emergency through community life, totally different and independent from the approach of the institutions and the association Civil Protection.
Accommodation: SCI volunteers will sleep in 4 or 2 tents. The facilities (toilets and showers) are shared with the rest of the community. The volunteers will eat together with the locals at the Pro Loco and sometimes they may help in the kitchen if needed.
Requirements: The volunteers should be highly motivated to get involved in the workcamp and adapt easily to basic living conditions. In addition, artistic skills in the field of music and theatre would be much appreciated. Some knowledge of Italian would also be an advantage in order to facilitate communication with locals and to contribute to the social life of the village through evening events.
Approximate Location: Capricchia is a village in the North-East of the Amatrician Basin, surrounded by beautiful landscapes and mountains. The closest major cities are Amatrice, Rieti and Ascoli Piceno. Moreover, Capricchia is easily accessible by bus from Rome.