Event set up and sharing experiences – Zabok 2020
Topic:
13: Community life
Work Types:
Art / Festival / Social
Free places for Females:
3
Free places last update:
04 Mar 2020
International age:
18 - 99
Required Language:
English
Motivation letter:
This camp requires an additional motivation letter to explain in more detail why you would like to attend.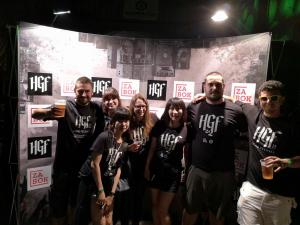 Description: The purpose of the camp is to promote community development, solidarity between people and intercultural understanding. Project is especially important for local youth as we want to motivate them to be actively involved in community life. Local and foreign volunteers will work together and exchange their experiences. Activities will enrich everyday life in our community, will encourage the development of the community and bring an international atmosphere to our town. Our project is primarily intended for youth, but also for everyone else involved. During the camp, volunteers will participate in the organization of the Fair of NGOs, in volunteering actions within national manifestation "Croatia Volunteering" and Intercultural events.
Type of Work: The main activities of the camp will be: assisting and providing support in the organization and implementation of the Fair of NGOs and Intercultural events, participating in voluntary actions that will be implemented within the manifestation "Croatia Volunteering". Volunteers will have following assignments: photographing events, communicating with participants, sharing refreshments, preparing and arranging the site, sticking posters, working on event promotion, setting up stands, preparing materials, painting and expressing in creative way, helping organise Youth Center, preparing the program for intercultural events and participating in it actively. The materials for implementation of activities will be provided. Volunteers will work 6 hours per day and they will have 2 free days.
Study Theme: For the volunteers, a presentation will be organized about the Network of associations Zagor, about the partner organizations, about the local and regional community with a focus on the 15th Fair of NGOs, manifestation "Croatia Volunteering" and Intercultural events. The study part will be held on the first day of the camp so that volunteers can get familiar with the environment, with the work of our NGO, with the camp and activities, etc. Also, a Good practice study will be conducted, where both local and foreign volunteers will exchange experiences together.
Accommodation: The accommodation will be in a house in Zabok, max. 15 minutes from the office and 5-10 minutes from the center of the town. It will contain two bedrooms (possibility for the separate rooms for men and women), kitchen and bathroom. Volunteers need to bring sleeping bags. Camp leader and volunteers will go to buy food and groceries so volunteers will be able to cook for themselves. They will be asked to cook together, perhaps a different couple each day. They will be asked to prepare traditional dishes from the country they come from.
Language: Working language on the workcamp will be English. Although one part of the population in Krapina-Zagorje County doesn´t speak English, during the activities volunteers will always work with somebody who speaks English and Croatian so they won't have any problems in communication.
Requirements: Volunteers will have to send AF and ML with a brief explanation of why they would like to participate. One part of work will be physical work – carrying tables and booths during the preparation for the Fair, carrying the necessary materials for the Fair, volunteer activities and Intercultural events, but this will not be hard physical work.
Approximate Location: The location of the camp will be in Zabok - accommodation and one part of activities will be in Zabok, and the second part of the activities will be held in the broader area of Krapina-Zagorje County. Transport to the activities will be secured. The town of Zabok is located on the southwestern edge of the Krapina-Zagorje County and is only 30 km away from the capital city of Zagreb, with good connections. Zabok is a small town where 9.365 inhabitants live. The city has an important strategic and geopolitical position. It is also a prominent educational center.