Summer Camp @ Porto - APPC
Topic:
9: People with disabilities
Work Types:
Work with people with disabilities / Work with children / Social
Free places for Females:
2
Free places last update:
04 Mar 2020
International age:
21 - 99
Required Language:
English
Motivation letter:
This camp requires an additional motivation letter to explain in more detail why you would like to attend.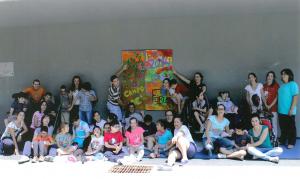 Description: APPC is a non-profit organization that supports and promotes the integration and autonomy of people with mental disabilities. Every year, the organization offers holiday camps to their users with the main goal to fight social exclusion and promote cultural and social activities.
Type of Work: Volunteers will support children and young people from 6 to 18 years old, with or without disabilities, in carrying out recreation and leisure activities (going to the beach, supermarkets, parks, swimming pool, etc.), in collaboration with the technical team. The tasks planned for the volunteers are:
Oral interaction with children and young people;
Help to feed and supervise the meals of children and young people with and without disabilities;
help children and young people with and without disabilities when going to the bathroom (transferring the wheelchair to the toilet / helping to wash teeth and hands / help-ing to bathe);
Help push wheelchairs to facilitate the movement of children and young people with disabilities.
Study Theme: Social inclusion; environmental responsibility; community work; Disability; Children;
Accommodation: The group will stay together in APPC residences, sharing rooms with young adults with cerebral palsy. They can cook or get meals from the institution.
Language: Portuguese is the speaking language in the project. English and Spanish are both spoken by the volunteer's coordinator.
Requirements: Volunteers should be sensitive, empathic, with an open-minded attitude and the desire to help others and learn. Sense of responsibility with the kids.
Approximate Location: Porto
Organization Description: Para Onde is a Lisbon-based organization that is mainly focused on promoting social inclusion through volunteering. It was born in 2014 as an informative website and, at the end of 2016, it became an active NGO. Para Onde will allow everyone to have the experience to volunteer abroad despite age, budget and professional background/experience. Suitable training will be guaranteed to all those departing on an experience with SCI International.