ecoPeace Caravan - to 3 Beautiful Cities
Topic:
3: International solidarity
Special Topics:
Climate for Peace Programme:
Work Types:
Cultural heritage / Peace / Study, discussion, research
Number of places still available:
10
International age:
16 - 80
Extra fee to be paid in the hosting country:
130.00 Euro
Breakdown:
Accommodation and food: 50.00 Euro
Transportation: 50.00 Euro
Activities: 10.00 Euro
Hosting organisation support: 20 Euro
Purpose of extra costs:
To cover for the cost as listed: Board (50) Travel (50) Activities(10) Host Support (20)
Required Language:
English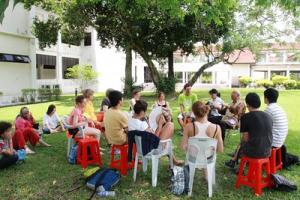 Description: The ecoPeace Caravan, is part of SCI 100 AfP (Action for Peace) to commemorate its centenarian celebration. The participants will use public transport to travel to the 3 beautiful Malaysian cities - Kuala Lumpur, Taiping and Penang, to places where SCI had it's early workcamps. The aim of the workcamp is rekindle nostalgic memories and to promote a vision of Peace, volunteerism, multicultural exchange and non violence during the trip, and to participate in any organised Forum workshops. At each site, appropriate and meaningful work will be planned with the host. Along the way, and at each city - visit and study of historic landmark that helped to develop the community and Malaysia into a peaceful and harmonious multi racial society will be shared and discussed
Type of Work: There will be specific physical work at each location to be determined with the hosts. We will be engage in helping to organise a half day Interfaith Forum, Team will take on different tasks as the caravan will stop in 3 different cities The volunteers will be ambassadors for the SCI all the way long. This project is unusual because it is a mobile one, the volunteers will have a great experience travelling through the northern Malaysia using public bus and train
Study Theme: SCI's 100 years of history - in promoting Volunteerism, community work, grass-root activities and a culture of Peace and non-violence. Will also learn how the community in particular Malaysia with 3 different community put behind a dark incidence in 1969 and manage to live peacefully and harmoniously since. We will review different avenue and methods to promote Peace we observed during the day International Volunteers are encouraged to share their country's experience. Every evening there will be time for Reflection and sharing of one's experience.
Accommodation:  Volunteers will be sleeping in different places throughout the all project. Adequate facility for bath, toilet and wash up will be available. Recommend to bring - light sleeping bag ..
No Wifi however, one may subscribe to the many mobile network. We strongly urge participants refrain from playing with e-games or engaged in chat-groups during our Study Group Discussion and Reflection time.
Language: English
Requirements:  Be open, be flexible and make it a learning experience. Be proud of your country and community - and come share with us - your knowledge - we may organise Human Library sessions, Ability to adjust to the intercultural expectations of the community especially dressing appropriately at place of worship and complying to some local Dos and Don'ts.
Approximate Location: The program will cover from Kuala Lumpur to Taiping then to Penang - a distant of approximately 400 km .KL is roughly 3 deg above the Equator and 102 deg east of the meridian. The other two location are in Taiping and Penang.
Notes: An excellent opportunity to experience Malaysia's cultural diversity - Malaysia is a tropical country, a bit hot and humid - many loved to go back with a nice tanned completion. Bring loose clothing - hat and suntan lotion - you get to like the cool ambient in the evening. Love Asian food ? you would have opportunity to savour what the common people have. Peace is more than absence of war - it is appreciating and enjoying what we have - what's presence.