Children´s Town (Görlitz/ Zgorcelec)
Topic:
7: Children and youth
Work Types:
Work with children / Social
Number of places still available:
10
Free places last update:
13 Mar 2020
International age:
18 - 99
Required Language:
English
Motivation letter:
This camp requires an additional motivation letter to explain in more detail why you would like to attend.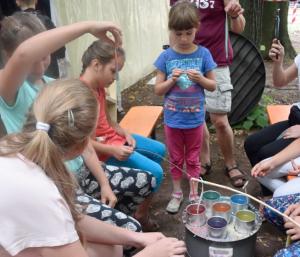 Description: The children's town "nasze miasto - our city" was founded in the summer of 2004 in Görlitz. The children`s town is a holiday offer for children and youngsters from the age of 7 to 14. The children of the divided city Görlitz/Zgorcelec (Germany/Poland) will come closer together in these two weeks, because the offer will be in Polish and German. The project goals for the young people of Görlitz/Zgorcelec are to develop a deeper understanding for other people and a new interest in foreign cultures. Also their new social competences should be supported. For further information please visit www.nmus.de
Type of Work: Supporting the children in their "professions and services" (theatre, bakery, hospital, pub, beauty-shop etc.)
Study Theme: Communication in bi-national youth workplace as in the example of the children´s town "nasze miasto - our city"
Accommodation: Simple community accommodation
Language: English
Requirements: Camp language is English, but knowledge in German or Polish is also necessary. Motivation letter is required.
Approximate Location: It is the easternmost town in germany, located on the Lusatian Neisse River in the Federal State of Saxony. It is opposite the Polish town of Zgorzelec.
Notes: In "our city" the young participants will adopt the roles of adults and sense civic participation. That means, they will decide what happens in their "City". On a central place of Görlitz a city with huts and tents will be constructed, where the young citizens will live and work. When the children enter the city, they have to register in "Our City", go to the labour office and work in a profession. No matter, whether they will work as fire fighters, bakers, policemen or nurses, the young citizens will get an impression about the real-world professions. The citizens will also earn money which they can spend in free time activities, services and other products which will be offered by other citizens.
Organization Description: This workcamp is organized by the German branch of Service Civil International (SCI). SCI Germany was founded in 1946 and is approved as a non-profit organisation. We are one of the oldest peace and volunteer organisations. SCI Germany aims to promote peace, non-violence, international solidarity, social justice, sustainable development and cross-cultural exchange through international voluntary work. We cooperate with a network of branches and partners in more than 90 countries. Every year, SCI Germany organizes about 50 international workcamps in Germany.