Prisoners of War as Victims of Nazi Persecution (Zeithain near Riesa)
Topic:
1: Antiracism, antifascism, remembrance
Work Types:
Construction / Restoration, renovation / Study, discussion, research
Number of places still available:
13
Free places last update:
22 Jun 2020
International age:
18 - 99
Required Language:
English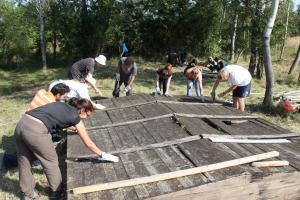 Description: In preparation of the attack on the Soviet Union the POW (prisoner of war) camp Zeithain was established in 1941 by the Nazi regime, to register and accommodate up to 30.000 Soviet POW's. Due to malnutrition, disease, insufficient medical treatment and terrible hygienic conditions about 30.000 Soviet POWs died. Their living conditions did not comply with the rules of the Geneva Convention. It was one of the biggest war crimes committed by the German armed Forces. From 1943 there were also prisoners from other countries like Italy, Poland, Yugoslavia, France and the UK. Since 2003 Workcamps, under supervision of an archaeologist, have uncovered the former camp area. Although the area was used until 1990 as a tank driving range, it was possible to find foundations of buildings and camp road.
Type of Work: The work this year is part of the necessary measures for the permanent establishment of a "history trail" on the former campsite. It will entail aspects of landscaping and gardening in the open areas of the former campsite and hopefully also some construction. Depending on the weather conditions conservation and documentation work concerning objects which had been found on the former campsite could be done. In addition it's planned to search in cooperation with the Saxonian heritage agency for artefacts on the former camp site.
Study Theme: History of WW II; the fate of the prisoners of war as victims of Nazi persecution; war crimes of the "Wehrmacht".
Accommodation: In a two floor house with seven bedrooms, internet access provided by mobile internet router, kitchen, leisure rooms, sanitary facilities. Bicycles are provided and a nearby gym and outdoor volleyball field can be used for sport activities.
Language: English. Both campleaders are from Great Britain.
Requirements: Before you apply, please first read basic info on this site. Here we explain, what we expect from volunteers in our camps.
Approximate Location: Zeithain is a small town in Saxony, near Riesa am Elbe. It has about 6 000 inhabitants in 11 villages and is known for the history of the POW-camp and the link-up of Red Army and US Army in April 1945. The house where you will be accommodated is in a village nearby, called "Kreinitz".
Notes: Good leisure time facilities. You can use a gym and play outdoor volleyball next to your accommodation. Bikes are available to ride along the river Elbe and to a quarry pond for swimming. For further information about the history of the Zeithain camp please visit this website. Excursions to various cities (Dresden, Leipzig, Berlin, Prag) and Saxonian sightseeing spots like Meissen and Moritzburg are possible! These trips are optional, you can also stay in Kreinitz. Check the videos from previous workcamps here and more info here.
Organization Description: This workcamp is organized by the German branch of Service Civil International (SCI). SCI Germany was founded in 1946 and is approved as a non-profit organisation. We are one of the oldest peace and volunteer organisations. SCI Germany aims to promote peace, non-violence, international solidarity, social justice, sustainable development and cross-cultural exchange through international voluntary work. We cooperate with a network of branches and partners in more than 90 countries. Every year, SCI Germany organizes about 50 international workcamps in Germany.