Building Walls - Breaking Walls Jura (Obergrenchenberg SO)
Topic:
10: Environment protection
Work Types:
Construction / Cultural heritage / Peace
Number of places still available:
6
Free places last update:
12 Dec 2020
International age:
18 - 99
Required Language:
English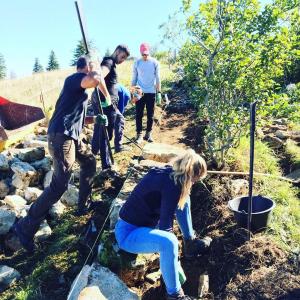 Description: This youth exchange is a nature experience and intercultural activity. During the 8 days young adults from Switzerland, Ireland, Northern Ireland, Israel and Palestine will work togehter learn from professional staff how to build traditional stonewalls on the mountains. You will experience the authentic and basic mountain life in the middle of the nature and contribute with your work to the local community and environment.
In the same time you will work together as an international group and trough discussions and workshops learn about each others' cultures and what kind of walls and borders exist between then. Together you will build traditional stonewalls and break down cultural and political walls between the communities!
Type of Work: Around 7 days of the activity will be reserved for learning to work with the stones and building the wall by hand.
Study Theme: Together with our friends from Ireland, Northern Ireland, Israel and Palestine we will exchanges, discussions and presentations about the intercultural challenges and the – both visible and non- visible – borders between the cultures in the different cultures.
Ever day there will be one workshop where we will have an intercultural session in order to get to know each others culture better.
Accommodation: Our venue will be an authentic mountain hut with basic infrastructure. There are toilets for men and women and a washing room, but no showers in the house. We will build a camping sloar shower for you outside (with limited warm water). The sleeping rooms are dorms with 8 to 15 mattresses (separated by gender). Bring therefore your sleeping bag and a pillow with you. The next house or public transport are far away, so you will have an unique nature experience in the wilderness, surrounded by many cows.
Language: Local language is Swiss German
Requirements: Average fitness-level
Notes: Due to the remote place, mobile reception is restricted and there will be no internet on the place. Emergency internet can be organised. There is a kitchen responsable, but he will be supported every day by three participants (from different countries). Each day, another team will be responsible for the cooking and the cleaning.
Organization Description: ATTENTION! PLEASE READ OUR STATEMENT ABOUT THE SITUATION WITH COVID-19 AND WORCAMPS IN SWITZERLAND 2021 HERE: http://bit.ly/3c06lX9 --- SCI Switzerland is a non-profit organisation which promotes intercultural exchange, sustainable development and non-violent conflict resolution. It has been organizing workcamps and long-term exchanges for volunteers worldwide since 1920. Each year more than 100 volunteers from Switzerland engage in SCI projects abroad, while around 200 international volunteers participate in projects in Switzerland. SCI Switzerland is certified by the Intermundo quality label, which guarantees high quality standards in youth exchange. Swiss workcamps are mainly focused on the work with youth as well as in the area of environmental protection. That is why among SCI Switzerland`s values is also an environmentally friendly lifestyle in accordance with the ideas of sustainable development. Volunteers are encouraged to be eco-friendly, especially when travelling to Switzerland and during the projects. Before applying be aware of high travel costs within Switzerland and check prices on the railway website www.sbb.ch. A participation in the camp from the first until the last day is needed for reason of instruction and group dynamic.