English for students. Online classes
Topic:
7: Children and youth
Work Types:
Teaching / Language study
Number of places still available:
9
Free places last update:
23 Jun 2020
International age:
21 - 99
Required Language:
English
Motivation letter:
This camp requires an additional motivation letter to explain in more detail why you would like to attend.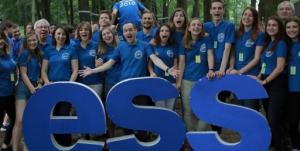 Description: The annual English Summer School (ESS) is an intensive English course which provides opportunities for spiritual growth, challenging work and fun. Its primary objectives are founded to enable students to immerse themselves in an English-speaking community to become fluent English speakers and to create a prayerful, retreat-like environment in keeping with Eastern Christian traditions. As a rule School hosts up to 200 students and around 40 volunteers and teachers. Ukrainian Catholic University (UCU), based in Lviv, in one of the best Humanities & Science Universities in Ukraine. The University gives secular education following best western standards with some religious elements. University authorities pay a big attention to international cooperation and intercultural learnin
Type of Work: The camp will be conducted ONLINE. The Academic Program is centered on five daily classes, three in the morning and two in the afternoon. Besides regular classes we also have evening tutoring and evening activities. So, this is not just teaching, but also creating an English-speaking environment and a community of people who enjoy studying and spending time together. Detailed schedule can be send upon request.
Study Theme: As well as teaching English and develop new teaching, group management and philosophy skills, this year volunteers will have a chance to improve knowledge on digital tools use and online teaching skills.
Accommodation: Zoom platform.
Language: Due to the fact that this project is aimed on improving the english skills of the students, this project is for English native speakers only.
Requirements: A motivation letter is required for registration.
Organization Description: All-Ukrainian Association for youth Co-operation "Alternative-V" - is a non-political, non-profit non-governmental organisation, founded in 1992. Alternative-V was created to facilitate co-operation between youth organisations, to involve Ukrainian young people into programmes on the national and international level in the fields of education, culture, ecology, historical heredity protection and helping disadvantaged people. Alternative-V wants to contribute to development of more peaceful society, to the decrease of social injustice. The Association obtained all-Ukrainian status in 1999. Alternative-V is a member of: - CCIVS (the Co-ordinating Committee for International Voluntary Service); - The Alliance of European Voluntary Service Organisations. Alternative-V is a partner organisation of: - SCI (Service Civil International)