Topic:
12: Art, culture and local history
Work Types:
Restoration, renovation / Social / Study, discussion, research
Number of places still available:
5
Free places last update:
23 Mar 2020
International age:
18 - 99
Required Language:
German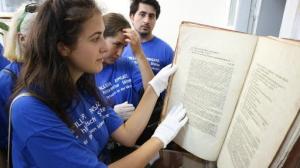 Description: Centre of German Culture Widerstrahl Project: The project was initiated by centre of German culture Widerstrahl with expectations to acquaint Ukrainian youth with German roots and international volunteers about places of living of ethnic Germans in Kyiv and Transcarpathian regions and doing activities for improving of territories connected with a history of their living.
Type of Work: Volunteers will help to renovate territories where ethnic Germans used to live and work. It includes improvement of cemeteries, parks and etc. During this project coordinators will organize meetings and visits for volunteers with representatives of different German minority institutions from Kyiv and Transcarpathian regions: museums, churches etc.
Study Theme: The volunteers, in addition to developing different skills in several physical activities (renovating, painting etc), will become aware of the place of the German minority in Ukraine, its history and its current state
Accommodation: Volunteers will be accommodated in hostels/student dormitories and two nights in night trains. Three meals per day will be provided.
Requirements: What to bring: working gloves, working clothes, musical instruments, detailed information about your country, national games, good mood and motivation.
Approximate Location: The project will start and finish in Kyiv. During this camp volunteers will have possibility to see different historical places in Kyiv an Transcarpathian region.
Organization Description: All-Ukrainian Association for youth Co-operation "Alternative-V" - is a non-political, non-profit non-governmental organisation, founded in 1992. Alternative-V was created to facilitate co-operation between youth organisations, to involve Ukrainian young people into programmes on the national and international level in the fields of education, culture, ecology, historical heredity protection and helping disadvantaged people. Alternative-V wants to contribute to development of more peaceful society, to the decrease of social injustice. The Association obtained all-Ukrainian status in 1999. Alternative-V is a member of: - CCIVS (the Co-ordinating Committee for International Voluntary Service); - The Alliance of European Voluntary Service Organisations. Alternative-V is a partner organisation of: - SCI (Service Civil International)