Yod Rak Organic Farm Workcamp (organic farming and market- community sharing)
This project is part of the SCI North South Programmes. Volunteers should be 20 years old, have previous volunteering experience and take part in the Preparation Workshops organised by their sending branch. More details from your sending branch.

Camp code:
TH-DA 11.630701
Topic:
11: Climate and sustainable lifestyle
Work Types:
Agriculture / Construction
Free places for Females:
8
Free places last update:
21 Apr 2020
International age:
18 - 99
Extra fee to be paid in the hosting country:
8000.00 Thai Baht
Breakdown:
Accommodation and food: 0.00 Thai Baht
Transportation: 0.00 Thai Baht
Activities: 0.00 Thai Baht
Hosting organisation support: 8000 Thai Baht
Purpose of extra costs:
The participation fee is requested to pay to Dalaa for food, accommodation, and other project related expenses. Therefore, the fees are for the preparation of workcamps.
Required Language:
English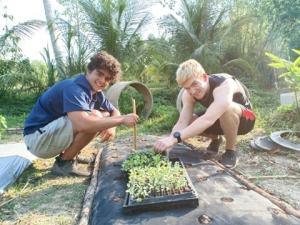 Description: We are a family of 2 people working on sustainable and organic farming in Trang province, South Thailand. We are nursing many kinds of vegetables and trees for our network of organic farmers and organizing the Cinta green market of the next town (Trang). We are involved in many kinds of alternative stuff, and we are willing to welcome volunteers interested to support us and willing to learn
Type of Work: - Clay house building
Agriculture (seeds conservation, planting, potting, caring, collecting, weeding, watering, composting…)
Learning about food processing
Sell vegetables or fruits from the garden at the green market.
Learning how to make shrimp paste and natural tie-dye clothes.
Activities with kids in the local small school.
Study Theme: This project is for volunteers who interested in organic agriculture, self-reliance, and Thai traditional cultures. The volunteers will learn more about the green market and community network building.
AIMS of the PROJECT
To learn and support organic farming, self-reliance, cooking, and local culture
To join the life in the village, and possibly exchange culture and language with neighbors and local kids.
Accommodation: - Volunteers will stay at the school. You will be in the middle of a Muslim village
the hosts are Buddhists. The relationships are very good between everyone and people close to each other.
Mosquito nets, pillows, blankets, and mattresses are provided
We will cook meals together, suitable for vegetarians.
Language: English
Requirements: - Volunteers should be ready to adapt to the Thai, local way of life, and willing to create relationships with volunteers' friends, hosts, and local people.
Volunteers should be able to take responsibility for themselves and the team by taking ca
Approximate Location: 154 M.7 T.ThungKrabue Yantakhao TRANG 92140Thailand