Ban Prang Mu School - ll (Activities with kids at a primary school)
This project is part of the SCI North South Programmes. Volunteers should be 20 years old, have previous volunteering experience and take part in the Preparation Workshops organised by their sending branch. More details from your sending branch.

Camp code:
TH-DA 7.630702
Topic:
7: Children and youth
Work Types:
Teaching / Work with children
Free places for Females:
8
Free places last update:
21 Apr 2020
International age:
18 - 99
Extra fee to be paid in the hosting country:
8000.00 Thai Baht
Breakdown:
Accommodation and food: 0.00 Thai Baht
Transportation: 0.00 Thai Baht
Activities: 0.00 Thai Baht
Hosting organisation support: 8000 Thai Baht
Purpose of extra costs:
The participation fee is requested to pay to Dalaa for food, accommodation, and other project related expenses. Therefore, the fees are for the preparation of workcamps.
Required Language:
English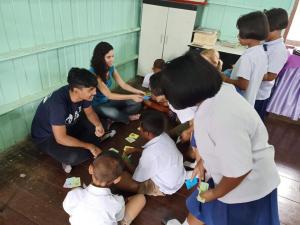 Description: Ban Prang Mu School is a very small school in Ban Prang Mu sub district, Phatthalung province, Southern Thailand. The school director, who shares our values, would like to welcome volunteers, to improve English skills for students to be able to communicate in this language. Volunteers can help to organize English lessons or other fun activities with the 91 students from kindergarten to Grade 6 (6-12 years old) during these 2 weeks.
AIMS of the PROJECT
1- To support Ban Prang Mu School 2- To be part of the community of Ban Prang Mu village 3- To let children be familiar with volunteers and learn in an international/multi-culture atmosphere 4- To improve English skills for students to be able to communicate with foreigners
Type of Work: 1- Give non-formal English classes and other fun activities with the students. 2- Create teaching materials for teachers and kids. 3- Activities with villagers: cleaning the temple area, sports activities, homemade cooking dessert
Accommodation: Volunteers will sleep in the classroom. There will be simple mats, pillow, and mosquito net. You will need to bring your sleeping bag and a small mattress. There are basic toilets, showers, and a kitchen at the school canteen. The teachers and villagers will help the volunteers to cook.
Language: English
Requirements: - Volunteers should be able to be with the kids and prepare some games and materials for teaching.
The volunteers should be ready to stay in a local area, to adapt to the local conditions with only basic facilities. Very few local people are able to speak in English.
Approximate Location: Ban Prang Mu School (Srivitsuksa) M.8 T.Prangmu A.muang Phatthalung, 93000, Thailand