Children Animation in Asylum Seeker Centre Ter Dennen
Country:
Belgium - Flemish speaking
Topic:
2: Refugees, immigrants and ethnic minorities
Work Types:
Work with children / Social
Number of places still available:
7
Free places last update:
30 Jun 2020
International age:
18 - 99
Required Language:
English
Motivation letter:
This camp requires an additional motivation letter to explain in more detail why you would like to attend.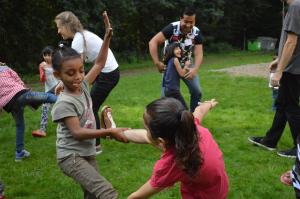 Description: This project will take place in the asylum centre Ter Dennen in Lanaken. The centre is administered by the Red Cross and gives shelter to 220 people from 17 different countries. 65 of them are minors. It will be our goal to help and entertain the 40 children (between 2.5 and 12 years old) during their summer break. Ter Dennen is situated in the forest.
Type of Work: Volunteers will organize activities for the children staying in the asylum centre. Since these activities depend entirely on the motivation and creativity of the volunteers, creative minds and people with good ideas are more than welcome! Keep in mind that people staying in Ter Dennen are passing a very difficult time and it's in our hands to make their lives a bit brighter. Volunteers will work 5 days a week and are free to choose what to do in the weekends.
Study Theme: A study part is foreseen concerning the Belgian procedures for asylum seekers. We will also discuss advantages and disadvantages of these procedures. The interest in this issue comes from the group itself.
Accommodation: The volunteers will sleep in a youth movement accommodation, with several sleeping rooms. There will be one shower and two toilets exclusively for the volunteers.
Language: The camp language will be a mix of English, Dutch & French, though any other languages such as body language or music are also possible.
Requirements: We are looking for people who are independent, who can organise activities, get along with all sorts of people with different backgrounds and children and who have a sense of responsibility. Prepare for warm, sunny as well as for cold, rainy weather, Belgian weather is unpredictable!!! Applicants will be contacted by a contact-person of VIA for a skype-call
Approximate Location: Lanaken : Lanaken is a village in the Belgian province of Limburg. It is located near the Dutch border, bordering Maastricht directly.
Notes: When to arrive? It is best to arrive before 5 pm. If this is not possible, please contact the Red Cross centre and inform them about your arrival time. We also recommend you to visit a centre for asylum seekers in your own country (if possible) before coming to Ter Dennen in Belgium
Organization Description: VIA is a pluralistic non-profit organisation. Its core business is intercultural exchange through voluntary work.VIA organises short term exchanges in voluntary projects in more than 100 countries around the world. All programs are open to all. VIA is the Flemish branch of Service Civil International.