Purujosa. House building in a small village
Topic:
13: Community life
Work Types:
Construction / Environment / Restoration, renovation
Number of places still available:
2
Free places last update:
01 Jul 2020
International age:
20 - 99
Required Language:
Spanish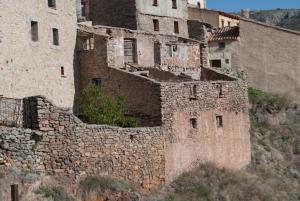 Description: The NGO PRADA Proyectos de Ayuda was created in 1996 to recover a house in a small village in León for social purposes.
Since then, they have brought together people who love nature and rural areas, to recover old buildings and create spaces for non-profit organisations.
Our objectives are:
Restore the depopulated rural environment
Collaborate with NGOs in their work, recovering spaces for their activities and projects.
The new project is the restoration of a house in Purujosa, Zaragoza for the same purposes described above.
Type of Work: The work is to clear debris, remove the old building's all floors, roof, and interior walls: Hard manual work, remove debris, stone, wooden beams…
We have to clean a plot and remove debris to prepare the construction of the new house.
From the house there are only the exterior walls that are usable and will give the home air ancient and original construction.
Study Theme: Damage and depopulation of the rural environment.
Accommodation: In a little house.
Language: Spanish
Approximate Location: Purujosa, Zaragoza, Aragón, Spain
Notes: Volunteers have to provide proper working clothes and footwear, and sleeping bag as we will sleep on mattresses on the floor.