Working with homeless people in Hamburg St. Pauli
Topic:
5: Poverty and social injustice
Work Types:
Manual / Peace / Social
Number of places still available:
9
Free places last update:
10 Jun 2020
International age:
18 - 99
Required Language:
English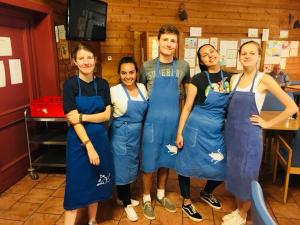 Description: Alimaus is a catholic project for homeless and poor people. It offers the opportunity for walk-ins to come together and have a warm and welcoming place to stay. There are also bathrooms and showers in the house, basic medical help is offered as well. Part of the free regular service is a hot meal and the distribution of clothes. Currently, the facilities, which are funded only by donations, are used daily by approximately 200 guests. The volunteers will live and also work in "Haus Bethlehem", another homeless shelter, which has been founded by Mother Teresa. The projects are located in St. Pauli, one of Hamburg's poorest neighbourhoods. At the same time, it is one of the most popular ones, especially amongst artists and young people it is popular for its colourful and international atmosp
Type of Work: After an introductory period, volunteers will be integrated in the daily routine of the projects and will help with all necessary tasks e.g. the distribution of food and clothes. Individual initiative is highly desirable.
Study Theme: Poverty and homelessness in Hamburg; chances to visit other projects for homeless people.
Accommodation: In a catholic homeless shelter. Volunteers should be ready to contribute to the regularly cleaning of the house Bethlehem during their stay (together with others). The participants are asked, to respect daily life, e.g. in case their return late at night.
Requirements: High level of motivation, willingness to associate with a difficult clientele, high frustration tolerance; German skills are an advantage.
Organization Description: This workcamp is organized by the German branch of Service Civil International (SCI). SCI Germany was founded in 1946 and is approved as a non-profit organisation. We are one of the oldest peace and volunteer organisations. SCI Germany aims to promote peace, non-violence, international solidarity, social justice, sustainable development and cross-cultural exchange through international voluntary work. We cooperate with a network of branches and partners in more than 90 countries. Every year, SCI Germany organizes about 50 international workcamps in Germany.