Country:
Belgium - French speaking
Topic:
11: Climate and sustainable lifestyle
Work Types:
Agriculture / Manual / Restoration, renovation
Number of places still available:
3
Free places last update:
30 Sep 2020
International age:
18 - 99
Required Language:
English
Spoken Language:
English, French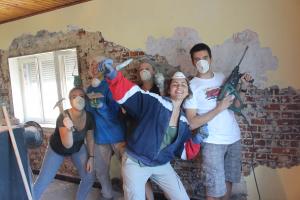 Description: Oasis is an eco-citizen center for training, learning and research in ecology. It is a place created in 2013 for encounters, exchanges, expositions and conferences. Starting from February 2020, the center has moved to a different place located in Quaregnon. Consequently, much development is expected during 2020. The intention of the center is to show ecological alternatives applicable in all areas of daily life, to promote the re-appropriation of expertise to be able to follow a simple lifestyle, healthy, not dangerous for the health or the environment. In summary, the eco-center is intended to be an educational demonstration of ecological techniques related to habitat, energy, water and food.
Type of Work: One of the subjects addressed by the center is eco-renovation, which is the aim of this project. The participants will be part of the ecological renovation of the place as much as possible; in order to show that renovating a building in an ecological way without spending huge amounts of money on technology is possible. Everything needs to be done yet as Oasis has just moved to a different place. Volunteers will mostly do activities concerning management, renovation and cleaning of the place. There will be also different tasks of permaculture in the garden, exterior set-ups and installing of the space where there will be the oven.
Study Theme: Environment, ecological renovation. The subjects addressed will be those of food, permaculture, organic market gardening, organic fruit tree cultivation of old and local varieties, urban agriculture, recovery, ecological renovation of the building, energy, water management and participatory sites, the culture and arts associated with these themes.
Accommodation: Volunteers will accommodate in the Maison des Jeunes of Cuesmes. They will have a kitchen and a hall at their disposal (bring a mattress and a sleeping bag). The sanitary arrangements will be rudimental (washbasins will be in a separate room). Paths will be done by bike, in case of mild weather, on the ravel between Cuesmes and Quaregnon 20'. Take your bike with you if possible or communicate if you do not have one. The partner organization can lend bicycles but in limited numbers.
The diet will be mainly vegetarian.
Language: English and French.
Requirements: Volunteers who enjoy physical work.
Approximate Location: Quaregnon, nearby Mons ; accommodation will be in Cuesmes, 10 minutes by bike from the center of Mons. The train coming from Brussels stops at Quaregnon (two stops after Mons)
Notes: Covid-related safety measures :
Face masks to be used only outside of the group
Ventilated living and sleeping areas
Contact surfaces will be cleaned regularly
Material will remain in the group bubble as much as possible
Remember to cough in the elbow, wash hands regularly, use single-use tissues
Participants will be asked to sign a certificate indicating that they have not suffered any symptoms that may be related to COVID during the two weeks preceding the volunteer project (sore throat, cough, headache, fever, cough).