Kékéli : Cultural meeting and immersion
This project is part of the SCI North South Programmes. Volunteers should be 20 years old, have previous volunteering experience and take part in the Preparation Workshops organised by their sending branch. More details from your sending branch.

Topic:
12: Art, culture and local history
Work Types:
Art / Festival / Cultural heritage
Free places for Females:
6
International age:
18 - 99
Extra fee to be paid in the hosting country:
200.00 Euro
Breakdown:
Accommodation and food: 80.00 Euro
Transportation: 35.00 Euro
Activities: 50.00 Euro
Hosting organisation support: 35 Euro
Purpose of extra costs:
The participation fee is a contribution requested by Astovot from volunteers participating in international projects. Astovot as any association in Togo does not benefit from any subsidy from the Togolese State. It is the participation fees of the volunteers that enable Astovot to finance its projects. The cost of participation in volunteer workcamps amounts to 200€ per person for 2 to 3 weeks. This participation will cover : accommodation costs; food; accompaniment of the group; administrative costs; purchase of materials and equipment for the project.3/4 for the project and 1/4 organisation.
Required Language:
French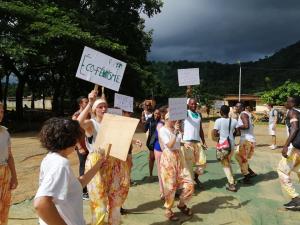 Description: "Kékéli Festival" initiated since 2016 by the NGO ASTOVOT, is in its 5th edition this year. This festival is a vehicle for promoting Togolese culture in all its diversity through local artistic and folklore groups. The theme of this year's edition is "Women, pillar of environmental protection". Women have an important role to play in the preservation of the environment and natural resources and in the promotion of sustainable development. In Togo, for example, the main responsibility for providing for the household falls on women, especially in rural areas, and they largely determine consumption trends. Thus, women have a fundamental role to play in the adoption of sustainable and environmentally sound consumption patterns, natural resource management and production.
Type of Work: - Formation of the volunteer art group
Group rehearsals (percussion, singing and dancing) ;
Organization of exchange meetings around the theme of publishing (local development actors, village associations, women's groups )
Batik workshops ; making baskets
Storytelling workshop with children
Sketch montages around the theme
Actions for environmental protection
Accompanying artistic and folklore groups in the preparation of the festival
Immersions of international volunteers in the families of the women farmers
Apotheosis (invitation of f artistic groups ; logistics, design of communication supports, sound system, installation),
Arrangement of the hall or place of the spectacle
Performance sequence (groups, sketches, fashion show...etc.)
Study Theme: This project encourages women to become more involved in environmental protection activities through the organization of cultural and community activities. As usual, a cultural event will be organized at the end of the project where various folklore and artistic groups from the village will perform. It will also have other cultural activities around the theme of this edition, namely: fashion show in traditional dress, skits, Batik, health of public places ... etc... This Festival is for Astovot, a space for intercultural exchange and citizen expression.
Accommodation: On site of project: Accommodation conditions are generally rudimentary (especially in rural areas). The group is housed together in a house in which the volunteers have to share rooms (usually 2 to 4 rooms). We have small mattresses and plastic mats that will be used as bedding for the volunteers. Because the houses are often not equipped with beds. However, volunteers can provide small inflatable mattresses or small floor mats, sleeping bags, mosquito nets, etc.
Language: French and English are the two languages of the project. However, French is the official language spoken in Togo. It is advisable for English-speaking volunteers wishing to participate in this project to have a minimum level in French, because a large majority of local volunteers and communities have a low level in English.
Approximate Location: The village of Kuma-Apoti is one of the ten villages of the Kuma Canton. It is located northwest of the town of Kpalimé. Its relief consists of a vast plateau and wooded mountains. Kuma-Apoti is located in a humid zone and its climate, very particular for Togo, is much cooler and "temperate" than that of Lomé. The economy of the village is essentially based on agriculture, around which gravitate some commercial, artisanal and tourist activities. The agricultural sector employs about 80% of the population. The productions from which the population draws a meagre income are coffee and cocoa. F
Notes: If the volunteer's flight arrives during the night in Lomé; the volunteer is requested to make sure to spend the first night in a hotel in the capital. For the safety of the volunteers, our organization prohibits any night transport to the project site. Our colleague who is in charge of the reception of the volunteers can offer him/her a hotel room which costs a maximum of 15 euros.