Organic Farming At Vanhamäki Centre For Common Good III
Topic:
11: Climate and sustainable lifestyle
Work Types:
Agriculture / Manual
Number of places still available:
1
Free places last update:
30 Jul 2020
International age:
18 - 99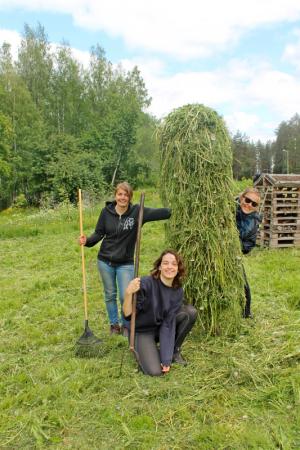 Description: Vanhamäki Foundation organizes camps and recreational days for different groups around the topics of horse riding, sports and organic farming. Vanhamäki has an organic farm and produces different kinds of canned goods, berry powders and green powders. There is also a forest activity park that is aimed for everyone. During its over 100-year history Vanhamäki Wellness center has operated as a center for poor and disabled people, hospital, home for elderly people and as a youth center. Currently the foundation is also running a private childcare institution. Throughout the years the aim has remained the same – operate as the center for wellness and common good.
Type of Work: The volunteers will participate in the work of the farm, especially in harvesting. They can also, for example, get acquainted with organic farming and product development, help with the horse stables or in the kitchen. According to interests of the volunteers, a visit to local school can be arranged where the volunteers can tell students about their home countries and get to know about education in Finland. During their free time, the volunteers can go to the sauna, spend evenings by the fire, swim, do sports and go canoeing. A trip to a nearby national park can be arranged and volunteers can organize an international evening for local people. The camp is suitable for families with children over 10 years old who can take part in the daily program with their parent.
Study Theme: Organic farming
Accommodation: In shared rooms, with separate spaces for men and women. Beds and sheets are provided for the volunteers.
Language: English
Approximate Location: Suonenjoki, Eastern Finland
Notes: Please pay attention to sustainable travel.
P.S. From 10th of August onwards only people from Estonia, Latvia, Lithuania, Norway, Denmark, Iceland, Germany, Greece, Hungary, Italy, Liechtenstein, Malta, Slovakia, Cyprus, Republic of Ireland, San Marino and the Vatican can enter Finland without 2 weeks quarantine (updated 6th August).