Bioconstruction in the largest desert in Europe
Topic:
11: Climate and sustainable lifestyle
Work Types:
Agriculture / Construction / Environment
Free places for Females:
6
Free places last update:
20 Jul 2020
International age:
18 - 99
Extra fee to be paid in the hosting country:
96.00 Euro
Breakdown:
Accommodation and food: 96.00 Euro
Transportation: 0.00 Euro
Activities: 0.00 Euro
Hosting organisation support: 0 Euro
Purpose of extra costs:
6 euros por día y por persona para cubrir los gastos de comida
Required Language:
English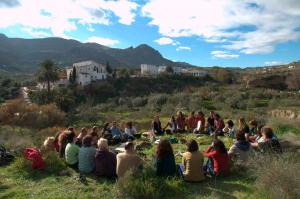 Description: Cortijo Los Baños was born in 2000, and is located in the area of ​the Tabernas desert (Almería), the largest desert in Europe. It has brought life back to a place full of history and, little by little, it has become a benchmark as an Environmental Education Center, a Farm School and as the venue for meetings and workshops for hundreds of people throughout the year.
The main objective for the Tierra y Vida (Land and Life) project is to provide volunteers with the opportunity to acquire skills to reforest, and be active participants in environmental care to combat climate change; to learn to lead a conscious coexistence and a sustainable life. As well as acquiring knowledge of permacultural design and agroecology, while living and working in a community.
Type of Work: The aim of the workcamp is to train volunteers in the bioconstruction of residential domes with earth bags, mainly using cheap materials present in the environment (earth and stone) that are available almost anywhere in the world, to construct small habitable buildings. This will allow participants to have a collaborative experience that will also enable them to replicate it and teach others, since the techniques used are simple and easy to learn. The work will be led by Juan Segura (Founder with more than 20 years of experience in sustainable living), along with Carlos Sánchez (Technical Architect) and Elena Escudero (Coordinator of work groups for the Tierra y Vida project).
Study Theme: Visit to the Tabernas desert: In this route we bring volunteers closer to the impressive nature and history of the unique ecosystem of the Tabernas Desert Natural Area, close to our project. Estimated time: Two and a half hours.
This training will be done on the first day of the work camp so that the volunteers know where they are.
Introduction, history and sustainable life Cortijo Los Baños
Learn about the reforestation project in the Tierra y Vida desert
Visit the cremation ovens of the iron mines
Accommodation: We offer sustainable accommodation in wooden cabins with bunk beds and common spaces for activities and leisure.
Language: English, Spanish
Approximate Location: Cortijo Los Baños, Lucainena de las Torres, Almería
Notes: In the afternoons, the volunteers will be invited to use the common spaces and participate in activities organised by other volunteers.