« Cultural Project » SUMMER FESTIVAL KEKELI
This project is part of the SCI North South Programmes. Volunteers should be 20 years old, have previous volunteering experience and take part in the Preparation Workshops organised by their sending branch. More details from your sending branch.

Topic:
12: Art, culture and local history
Work Types:
Art / Festival / Cultural heritage
Free places for Males:
10
Free places for Females:
10
Free places last update:
01 Dec 2020
International age:
18 - 99
Extra fee to be paid in the hosting country:
200.00 Euro
Breakdown:
Accommodation and food: 60.00 Euro
Transportation: 20.00 Euro
Activities: 60.00 Euro
Hosting organisation support: 60 Euro
Purpose of extra costs:
The participation fee is a contribution requested by Astovot from volunteers participating in international projects. Astovot as any association in Togo does not benefit from any subsidy from the Togolese State. It is the participation fees of the volunteers that enable Astovot to finance its projects. The cost of participation in volunteer workcamps amounts to 200€ per person for 2 to 3 weeks. This participation will cover : accommodation costs; food; accompaniment of the group; administrative costs; purchase of materials and equipment for the project.
Required Language:
French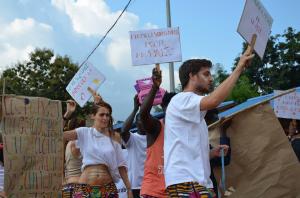 Description: Since 2014 ASTOVOT has initiated a cultural project called "Festival Kékéli". KéKéli means "Light" in Ewé and want to be a crossroads of cultural expression and popular education. Every summer, many volunteers are welcomed to this workcamp in order to discover the richness of Togolese culture. During two weeks it offers, as part of a popular education approach, several cultural and artistic activities and gives the local population and volunteers the opportunity to create spaces for intercultural exchange and to promote the cultural and artistic heritage of the region where the festival is organized. For ASTOVOT it is about bringing art and culture as close as possible to people who live in rural areas, to make them move, sing, dance, laugh and make people smile.
Type of Work: -Percussion, dance and singing courses to the rhythms of the Djembe and other traditional instruments. -Casting of folk and traditional groups for the closing show. -Batik workshops : learning how to use and wear these tradicional fabrics. -Basket workshops : learning how to make traditional baskets. -Organization of a live concert and exhibition the first workcamp weekend. -Organization of an awareness parade with placards on the theme of the festival. -Organization of the closure show with folk and traditional groups. -Delivery of certificates of participation and awards. -Cleaning and maintenance of sites. -Organization of a football competition for young girls from the village. -Sanitation actions in the neighborhood of the village;
Immersion in peasant families.
Study Theme: The theme chosen this year for the festival is "cultural diversity, a pillar of social cohesion and peace". -To offer an intercultural exchange through the immersion in peasant families and the promotion of cultural, artistic and artisanal heritage. value popular culture and to allow folk and traditional groups to gain visibility by programming -To raise awareness of the fragility of the ecosystems balance and to promote ecological practices. -To remove gender stereotypes, specially regarding cultural and artistic subjects.
Accommodation: Accommodation conditions are generally rudimentary (especially in rural areas). The group is housed together in a house in which the volunteers have to share rooms (usually 2 to 4 rooms). We have small mattresses and plastic mats that will be used as bedding for the volunteers. Because the houses are often not equipped with beds. However, volunteers can provide small inflatable mattresses or small floor mats, sleeping bags, mosquito nets, etc. Volunteers prepare their own meals (breakfast, lunch and dinner) on site.The dishes are varied and diverse with local and imported ingredients.
Language: The languages of the site are English and French. However, we recommend to non-French speakers to having basic in French before arriving, because the official language of Togo is French. A large majority of local volunteers and local communities have a very low level in English.
Requirements: This project requires a great deal of involvement from the volunteers because it's demanding a permanent mobilization of the public around the activities. The volunteers must have a real interest in the themes of interculturality and solidarity.
Approximate Location: The village of Kuma-Apoti is one of ten villages in Kuma township (Kloto prefecture). It is located northwest of the city of Kpalimé. Its relief is made up of a vast plateau and wooded mountains. Kuma-Apoti is located in a humid zone and its climate, very particular for Togo, is much cooler and "temperate" than that of Lomé. The village's economy is mainly based on agriculture, around which revolve some commercial, craft and tourist activities. The agricultural sector employs around 80% of the population. The products from which the population derives a meager income are coffee and cocoa.