The Highlands of Iceland - The Famous Kjölur Road (1/2)
Topic:
10: Environment protection
Work Types:
Construction / Environment / Restoration, renovation
Number of places still available:
0
Free places last update:
18 May 2021
International age:
18 - 99
Extra fee to be paid in the hosting country:
350.00 Euro
Breakdown:
Accommodation and food: 100.00 Euro
Transportation: 150.00 Euro
Activities: 50.00 Euro
Hosting organisation support: 50 Euro
Purpose of extra costs:
Participation / Extra fees support the ongoing work of SEEDS and our activities. For this particular case the entire fee might not necessarily go towards your camp. The fees of your camp are mainly used for: - Provision of food and/or accommodation, some extra free time activities, transport from the meeting point. - Support for the ongoing work of SEEDS and our activities, such as co-funding for our long-term volunteers and project coordinators and administrative costs of the association.
Required Language:
English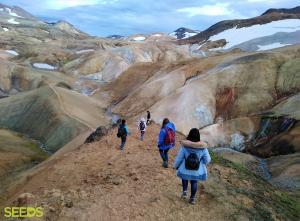 Description: SEEDS volunteers will support this project for the thirteenth year in a row. We started cooperation in 2009 and the results have been very positive. The hosts are a group of locals developing the area with alternative tourism services, including running a series of huts in this isolated area in the highlands and offering services to visitors and hikers.
Type of Work: In this camp SEEDS volunteers will work on diverse environmental outdoor tasks, including maintenance and development of walking paths and landscaping around the huts in the area. Volunteers will also help with the revegetation in some areas around, clearing litter on the walking paths, and assisting with general maintenance and preparations within the area before summer. As the landscape is rough, the work can be physically demanding and might require a good physical condition. No previous experience is needed. As it is outdoors work, volunteers shall be ready to adapt and be flexible with the working and free-time schedule, as depending on the - changeable - weather, we may not be able to perform some of the tasks or activities planned.
Study Theme: Volunteers will be staying close to the glacier Hofsjökull, near the rivers Hvítá and Þjórsá. The mountains in the area that reach up to 1500 m were formed during a volcanic eruption in the later part of the ice age. The area is still dynamic and great geothermal activity takes place in the surroundings. The environment is very diverse, both in shape and colour. The mountains are weathered and have very little continuous growth, as the forces of nature, like glaciers, water flow, ice bursts etc. have been fast working in these mountain highlands.
Accommodation: Volunteers will be hosted in a local mountain hut, sleeping in shared rooms on mattresses on the floor. Please bring your own sleeping bag. The facilities are very basic and volunteers are expected to show consideration for their companions. Volunteers will receive food ingredients and will be in charge of cooking and cleaning. Do not forget to bring some traditional/typical food, drinks, music and recipes from your country for the international evening.
Language: English will be the official language of the camp; high proficiency is not required.
Requirements: Participation fee EUR 350 (Euros). Please note that the fee can either be transferred in advance via bank transfer, or paid for on arrival. The fee includes transportation from the meeting point to the campsite & back (on the first and last day of the camp).
Approximate Location: The Icelandic highlands, or "the interior", are a true pearl to nature lovers and outdoor people. It is accessible by 4WD cars only and most routes involve crossing rivers where there are no bridges. If you really want to get away from it all, the interior of Iceland is like nothing you have ever experienced. The mountainous centre of the island, with its rocky deserts, craggy mountain peaks, ice caps, volcanoes, hidden valleys and hot springs, is an awesome and untouched wilderness.
Notes: Meeting & Departure time will be at 7:00 in the morning on 6 June, at SEEDS' Office in Reykjavík. We will return to Reykjavík in the evening of 19 June. The location of the camp is remote and very isolated. Free time activities are mostly hiking and trekking in the area as there is no transportation available, nor the possibility to organise transport to different sites. Volunteers need to be prepared for physical, demanding work. Weather is unpredictable and it can be very cold or rainy in the highlands. We recommend bringing good walking shoes/boots, warm/winter and/or waterproof clothes (underlayers, overcoats, scarves, gloves and hats) as most of the tasks and activities take place outside.
Organization Description: SEEDS is an Icelandic non-governmental, non-profit volunteer organisation designed to promote intercultural understanding, environmental protection and awareness through work on environmental, social and cultural projects within Iceland. SEEDS works closely with local communities, local authorities and other Icelandic associations both to develop projects in partnership, aimed at fulfilling an identified need, and to give assistance to established initiatives. Projects are designed to be mutually beneficial to all involved: the volunteers, the local hosting communities and Iceland as a whole. Every year host more than 1200 international volunteers from 50 to 60 different countries.