Center for gatherings Doro (Chironico TI)
Topic:
10: Environment protection
Work Types:
Construction / Restoration, renovation
Number of places still available:
6
Free places last update:
03 Mar 2021
International age:
18 - 99
Required Language:
German
Child friendly camp
Yes (Minimum age: 7)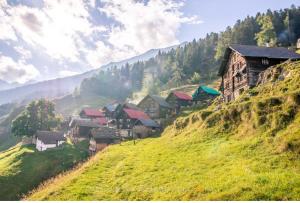 Description: The "Zentrum für Begegnung in Doro" resulted from the collective "Popolo Doro". Originally started by 10 Swiss-German Youngsters in 1976. While one part of the collective concentrated on agriculture, another part built and renovated houses in order to create a place, where seminars could be held, holidays could be spent and nature enjoyed. Doro is a good place to gain some distance from your own life situation and the civilized daily routine. Doro isn't a place where people can live during the whole year or for the whole life. For instance there is no school for kids near Doro. So a form of living and working together temporarily was created there. The ownership structure and the organization is complex. The houses are mainly private, but the infrastructure is common.
Type of Work: This year's planned works are: working on two houses with wood and with stones and mortar / supporting biodiversity by putting a fence for hedges and building a stone wall. Please keep in mind that the work in the camp will be physically demanding!
Study Theme: There will be a lecture in two parts on the subject of war and peace. After each part you will have the possibility to join the discussion about how we could reduce violence in our societies. We'll also visit samples of local art and architecture. Further there is a discussion planned on issues the participants will contribute about a conflict within their country or between their country and another country or the European Union. Please mention the issue at the application form under motivation.
Accommodation: There will be a simple shared accommodation for the group. Volunteers will cook for themselves mainly vegetarian meals. The project partner provides food and does the menu planning. Communication conditions are limited. There is some electricity in Doro to charge your mobile phones and for light. There are three or four sleeping rooms with beds, blankets and pillows, but still we recommend that you bring your own sleeping bag. There is a shower (the water temperature will depend on the weather, as there are solar panels installed).
Language: The local language is Italian. Chironico is a small village located in the district of Leventina in the Swiss Italian-speaking canton of Ticino. Project partner speaks German too.
Requirements: Good working shoes for the steep area!
Approximate Location: Doro is a remote place! Be aware that there will be a guided hike up to Doro as it lasts about 2 hours. It's possible to use the cable car for luggage transportation, but only if you are at the meeting point on time. Meeting point information will be given to you after application.
Notes: • SCI Switzerland supports the preservation of this cultural historic place in a remote area for gatherings in a good atmosphere. Further it is worth to support ecological agriculture for a high biodiversity. • Musicians are welcome (2 guitars are available)! • Remember that the first and last days of the workcamp are dedicated to travelling. Feel free to leave at the most convenient time for you. • Be aware that there are high public transport costs within Switzerland to get to this remote place – please check them before applying. For more details consult http://www.sbb.ch/en/home.html. • There is a minimum of 3 volunteers at least that the Workcamp will happen. We will inform you at latest 1 month before workcamp start (or earlier as soon as the minimum is reached).
Organization Description: ATTENTION! PLEASE READ OUR STATEMENT ABOUT THE SITUATION WITH COVID-19 AND WORCAMPS IN SWITZERLAND 2021 HERE: http://bit.ly/3c06lX9 --- SCI Switzerland is a non-profit organisation which promotes intercultural exchange, sustainable development and non-violent conflict resolution. It has been organizing workcamps and long-term exchanges for volunteers worldwide since 1920. Each year more than 100 volunteers from Switzerland engage in SCI projects abroad, while around 200 international volunteers participate in projects in Switzerland. SCI Switzerland is certified by the Intermundo quality label, which guarantees high quality standards in youth exchange. Swiss workcamps are mainly focused on the work with youth as well as in the area of environmental protection. That is why among SCI Switzerland`s values is also an environmentally friendly lifestyle in accordance with the ideas of sustainable development. Volunteers are encouraged to be eco-friendly, especially when travelling to Switzerland and during the projects. Before applying be aware of high travel costs within Switzerland and check prices on the railway website www.sbb.ch. A participation in the camp from the first until the last day is needed for reason of instruction and group dynamic.