Topic:
10: Environment protection
Work Types:
Festival / Cultural heritage / Manual
Free places for Females:
4
International age:
18 - 35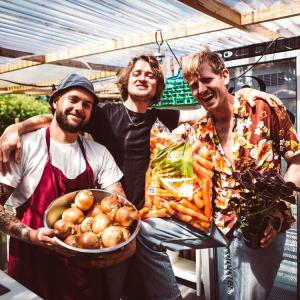 Description: Midsommer Festival is organized by a group of cultural entrepreneurs. Our mission is to create a unique festival, which brings people together from all of Denmark, for a celebration of life, love and music.As a participant in the Work Camp, you will help us build, execute, and clean up after the festival. There will be a lot of physical labour and a lot of time to chill out and get to know each other. We are a team of people who have been making this festival since 2013, and we enjoy building and cleaning up as much as we enjoy the actual festival days. Hopefully, you will do the sameWe have not had a Work Camp before, but we have always been reliant on the help of our 80-100 volunteers. Your contact persons will be Marc Facchini and Elias Seidler, who are also the leaders of the festival and of the local volunteer group. We will be looking forward to meeting you
Type of Work: Workdays are from 10:00 to 18:00, from June 14th to 17th, and from June 21st to 24th. From June 18th to 20th work times can be all around the clock, but nobody will be working for more than 6-8 hours per day. Tasks include:- Decorating the festival area with lights, artworks, etc.- Manual labour; digging holes, carrying stuff, building tasks, etc.- Stage work; assembling and disassembling the stages- During the festival: Bartending, welcoming guests/artists, cleaning, checking wristbands, etc.- Other tasks may very well occur
Accommodation: Sleeping facilities:You will be sleeping in a dormitory. Bring your own sleeping bag, linen and pillow. We will provide mattresses. We don t have a washing machine available, so bring enough clothesKitchen bathroom facilities: Shower and bathrooms are available. All meals are included in your stays; some meals will be delivered from our external catering partners, some meals will be simple self-service.
Language: eng,
Requirements: OBS To participate in this Work Camp, we require you to provide:A motivational letterTravel informationCOVID-19In regards to COVID-19, it is our ambition to complete our Work Camps this summer, but it is essential for us, that our volunteers feel safe during the time they spend at our camps. This is why we constantly keep ourselves updated on the situation and we follow the Danish government s instructions. Furthermore, we are ready to answer any questions that you might have, and we will keep all our volunteers updated right up until the start of the Work Camp.As of March 2021, there is a few important things to mention:- it is free for foreigners to take a COVID-19 test upon arrival in Denmark- with the current vaccine plan, most Danes will be vaccinated at the end of June 2021Your Work Camp host will have guidelines on how to handle COVID-19 during your stay, including how to handle isolation and enforcement of government guidelines. We can receive people with disabilities as long as you are able to manuvre on grass, uphill and downhill.No experience is needed, as long as you are willing to undertake a series of different tasks. Work hours may be late, while the festival is going on.English will be the only languages spoken among participants. All participants must be willing to speak English, even though being from the same country or having troubles with the English language. Try your best
Approximate Location: PrEstE is a small and beautiful city in southern Denmark. You have beaches and forests nearby, as well as a cosy city centre, with restaurants and shops. On top of that, we are ourselves making a wonderful festival, and you ll probably be tempted to spend most of your time inside the festival area. We do however recommend, that you also take your time, to explore the beautiful surroundings of PrEstE.