Topic:
12: Art, culture and local history
Work Types:
Cultural heritage / Sport
Free places for Males:
10
Free places for Females:
10
International age:
18 - 28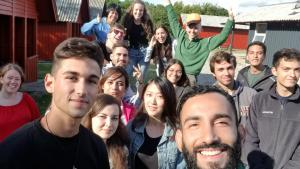 Description: It is our third camp Got a nice experience in 2018 and 2019. The Dana Cup is a nonprofit organisation that runs one of the world s largest international youth soccer tournaments. Every year in the last week of July, the soccer tournament brings together around 20.000 young people between 12 and 19 years old, there leaders and coaches. They come to HjErring in northern Denmark from 45 different nations and they represent 1000 football teams. Dana Cup week is a great party in HjErring and Work Teams tasks are many and there are many possible jobs.Read more about Dana Cup on this website www.danacup.com.
Type of Work: You will assist in completing the football tournament Dana Cup 2020 with approximately 20.000 participating football players and coaches.The work includes reparation of dormitories in Dana Cup Town, maintenance of outdoor areas, gardening, event creation and helping with the dining of 13.000 football players. The work is expected to be arranged in two shifts from 08:00-21:00.
Accommodation: Sleeping facilities: Participants are sleeping in tents and we will provide the linens.Kitchen facilities and shared bathrooms are provided. Laundry facilities are available. Participants should not cook themselves, but they will be served food. Both vegetarian and vegan food is available.
Language: eng,
Requirements: OBS To participate in this Work Camp, we require you to provide:Travel informationCOVID-19:In regards to COVID-19, it is our ambition to complete our Work Camps this summer, but it is essential for us, that our volunteers feel safe during the time they spend at our camps. This is why we constantly keep ourselves updated on the situation and we follow the Danish government s instructions. Furthermore, we are ready to answer any questions that you might have, and we will keep all our volunteers updated right up until the start of the Work Camp.As of March 2021, there is a few important things to mention:- it is free for foreigners to take a COVID-19 test upon arrival in Denmark- with the current vaccine plan, most Danes will be vaccinated at the end of June 2021Your Work Camp host will have guidelines on how to handle COVID-19 during your stay, including how to handle isolation and enforcement of government guidelines. Unfortunately, the job involves some physical work and therefore we cannot offer any work to volunteers with disabilities.Participants must be willing to do manual work, a work that is for the most part outdoors. English will be the only language spoken. All participants must be willing to speak English, even though being from the same country or having troubles with the English language. Try your best
Approximate Location: While the Work Camp will be centred around Dana Cup, but it is also 12 days that allow for leisure experiences . With a large swimming hall, sports facilities, etc., as neighbours, it is possible to accommodate several recreational needs. The HjErring area is also known as one of Denmark s most favourite resorts. A magnificent scenery, numerous sights and an excellent beach on the Danish west coast provide opportunities.