Topic:
7: Children and youth
Work Types:
Work with children
Free places for Females:
2
Free places last update:
28 Jun 2021
International age:
20 - 32
Extra fee to be paid in the hosting country:
50.00 Euro
Breakdown:
Accommodation and food: 0.00 Euro
Transportation: 0.00 Euro
Activities: 0.00 Euro
Hosting organisation support: 50 Euro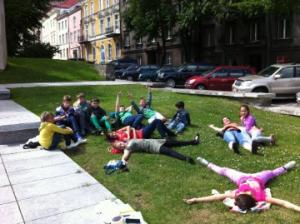 Description: ProjectThis project is organized for local children by The Language School In Down-Town and non-profit educational association Alternative Language Programs Satellite within its annual activities on multicultural issues for kids. Some international teenage participants may randomly join. The common project s aim is to introduce the diversity of world cultures to children and provide them with good practices in intercultural communication using the learning-by-doing method and organizing alternative English language practice. The project gets youngsters familiar with customs and traditions of the countries from all over the world and encourages them to develop their cross-cultural thinking and tolerance as well as global thinking and individual initiative. The theme of summer 2021 is Creative Economy . The participants will discover what impact their hobbies and interests may have on people and on the economy as a whole. Meetings with local and/or international professionals in the field will take place. Thematic photo and video contests for camp participants will be organized.
Type of Work: Activating kids in the city camp and providing them with cross-cultural learning experience. Volunteers will do it through informal methods of teaching and working in small group techniques. The activities to be held by a team of volunteers may include the following: playing the games and performing music that are popular in the countries the volunteers represent; training kids to perform pieces of amateur drama; preparing festivals; providing intellectual and sport games as well as discussions and excursions round the places of interest; organizing actions for peace and nature protection; leading and supporting kids in their work on the team projects within the topics related to the main theme of the summer. Volunteers are responsible for the day activities in the camp. The work can be quite hard, involving long working hours, requiring high level of commitment and responsibility. You will stay with campers from 10:00 to 17:00 and spend another hour to prepare next day activities and feedback. Working days are from Monday to Friday; Sundays are days off. In addition there will be one more extra day-off every week depending on the schedule. Before the camp activities start there will be 2 day training about camp methodology and preparation. The local participants are mainly youngsters from a Russian-speaking minority group of Tallinn. The average number of camp participants is 40. Volunteers will work in pairs facilitating and leading a smaller group of 10 - 12 kids during the day.
Accommodation: There are 2 options possible (subject to availability):1) A furnished shared apartment of The Language School In Down -Town in the residential area of Tallinn. Volunteers will be issued two sets of keys. The apartment has all necessary facilities, and it takes about 20 minutes to get to the city center by public transport. Public transport cards will be provided. Volunteers will cook their breakfast meals themselves (food will be provided); dinner meals will be served at school; lunches will be organized for the whole camp in the city center.2) The premises of The Language School In Down-Town located on the 4th and 5th floors of a business building in the city centre. In summer time, a part of the school is reserved for the volunteers accommodation that includes several separate dormitory bedrooms, a fitted kitchen, a dining area, a large shower area and two separate toilet cabins. For the reasons of security, volunteers will be issued only one set of keys. To facilitate a smooth and safe environment at school during the off-hours, the entrance to the school must be kept closed at all times. The access to the school and accommodation areas will be managed by long-term volunteers or school staff. Catering will be organized by the School on an agreement with the volunteers (selection of times, meals - provided or independent cooking, etc). Please note: it is not possible to stay at any of the camp accommodation before or after the camp. If you need a place to stay before or after the camp dates, we can help you to book a hostel in Tallinn.
Language: eng,eng
Requirements: Special requirementsYou have to be really motivated to work with kids. Please provide a letter of your motivation along with the application form. An experience of working with children is an advantage. Your ideas and actual preparation to do the activities for kids are essential. We ask you to bring some materials: postcards, posters, symbols of your country, music or popular national games etc., which can be used during your country presentation. We expect active volunteers with a good knowledge of history and culture of their country as well as with an ability and wish to present it to others in a creative way. B2 level of English is required. The age of volunteers is from 20 to 30. Please note that before making final decision about your participation in the camp, the project coordinator will have Skype interview with you.Participation feeWe ask participants to contribute 50 Euro towards the costs of general administration. This fee has to be paid by bank transfer before the beginning of the camp. If you cannot make it please contact your sending organization for solution.ArrivalThe 10-day self-isolation and COVID-19 testing requirements are not applied ONLY to those persons who have had the COVID-19 disease and no more than six months have passed since they were declared recovered by a doctor (a certificate needed), or have been fully vaccinated against the COVID-19 disease (a certificate needed). The volunteers who are qualified against these restriction requirements may arrive 3 days before the actual camp dates to be first trained to do their job in the camp. In all other cases, volunteers are subject to 10-day self-isolation. Alternatively, volunteers may arrive minimum 7 days before the actual camp dates and undertake the following steps: 1) make sure you have a medical/travel insurance that covers Covid-19 test; 2) get tested at the Tallinn airport; 3) if tested negative, stay self-isolated for 6 days and participate in the camp on-line training to get prepared; 4) get tested again; 5) if tested negative, come to school and join the camp (if tested positive, self-isolate for 10 days and get in contact with the camp organisers for further instructions). Accommodation options for the period of self-isolation will be discussed with the prospective volunteers during the interview.
Approximate Location: LocationCamp takes place in school situated in the centre of Tallinn, Estonian capital www.visittallinn.ee/eng The meeting place will be in the school In Down Town at 14:00 on camp arrival date at Joe str 3, Tallinn. Leisure timeThere are many possibilities for leisure time activities as the camp will take place in the Estonian capital Tallinn where one can find attractions for any taste: sightseeing, museums, festivals, concerts, pubs, etc.