Everyday life experience in an inclusive shared house with disabled people
Topic:
9: People with disabilities
Options:
Wheelchair Accessible
Work Types:
Work with people with disabilities / Manual / Restoration, renovation
Number of places still available:
7
Free places last update:
15 Apr 2021
International age:
18 - 99
Required Language:
English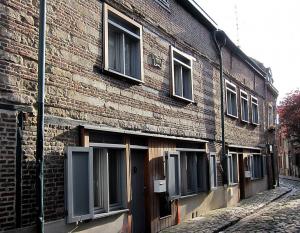 Description: "L'Arche Lille Metropole" is a community in the city of Lille, northern France. The organisation owns 3 day centres for people with disabilities. It also owns a forth building, "la Maison Saint-François" which is a shared house. In this house, people with disabilities, isolated elderly, students or young people starting a professional activity are living together (15 people). The aim of this house is to include people that are often left aside by the society. Living together creates bonds between the housemates and dignifies the residents.
Type of Work: The work time will be split between activities with the residents and manual work for the renovation of the house inside and outside. The task will be diverse such as organizing various workshops, taking a trip, cooking, playing, gardening, pruning, woodcutting, and painting. Furthermore, any artistic abilities or ideas for activities are welcome. The volunteers will collaborate with the professionals and the local volunteers.
Study Theme: The Maison Saint-François is focused on breaking people's loneliness. People in the house have separate flats, but common rooms where they can meet or organize activities. The volunteers will have the chance to experience a very progressive project about inclusiveness of people from different background. They will be working with elderly, people with disabilities, professional and volunteers. The volunteers will be sharing this experience with many different profiles.
Accommodation: The volunteers will stay in a 2 beds studio with bathroom and toilets. They need to bring a sleeping bag and a pillow with them. The volunteer will cook for the community with the help of the residents.
Language: Good french skills would be best in order to be able to talk with the residents, but it's not mandatory
Requirements: Be ready to work but mostly to live a unique experience. This house is a new progressive project on people's inclusion and many organisations are already thinking about opening the same kind of structures.
Approximate Location: The camp is taking place in Lille, northern France
Notes: The camp is open for people with a physical disability, but they need to be autonomous.
Organization Description: La branche française du mouvement, créée en 1936 et actuellement à Lille.