Happy English Camp, Happy Creative Camp, Happy Camp with Horses
Topic:
7: Children and youth
Work Types:
Art / Work with children / Work with animals
Number of places still available:
2
Free places last update:
13 Jul 2021
International age:
18 - 99
Required Language:
English
Spoken Language:
English, Slovenian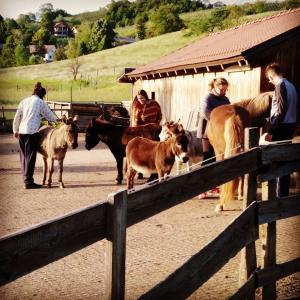 Description: Research and Educational Centre Mansion Rakičan is an organisation from the eastern part of Slovenia and is located on the edge of a beautifully preserved park. Our institution organizes various non-formal, social, tourism and cultural programmes. It also offers accommodation and manages an equestrian centre with 20 horses, as well as a restaurant. Each summer, we organize summer creative and language camps for children, as well as a camp with horses. During camp, children learn foreign languages through games, sports, music, as well as art and cultural activities. Activities are organized and well planned with the help of children and we involve volunteers from all over the world, thus adding value to our project and providing intercultural learning for children and volunteers as well.
Type of Work: Volunteers will have a chance to help with and also create some of the creative workshops, language-related activities, and other various activities for children. All of the schedules will be discussed with the camp leader and other mentors. They will also have a chance to present their country and their culture (language, music). They will also participate in all sports and art activities (horseback riding, visiting the swimming pool, archery). Within Camp with horses, volunteers will have a chance to assist in horse riding lessons and horse ground manners. A volunteer has to be qualified for that. The volunteers will also help with serving food and cleaning the kitchen.
Accommodation: Volunteers will stay on the mansion's premises, since our institution also offers accommodation - rooms with one bed or multiple beds with free wireless connection, TV, individual bathroom. The mansion is located in the middle of Pomurje region, surrounded by a beautiful park. We also have a café/restaurant, where visitors can enjoy their beverages on the sunny terrace overlooking the park and horses.
Language: The English language is used during camp activities and Slovene is the national language.
Requirements: Volunteers will have to have some experience in working with children and youngsters, as well as be creative in coming up with new ideas for different kinds of activities. They will have to have knowledge of English (knowledge of any other foreign language is a plus) and those that will want to be a part of the camp with horses, will have to have knowledge and experience in working with horses.
Approximate Location: Rakičan, Murska Sobota
Notes: Volunteers will expand their work experience with children. They will improve their leadership skills and skills of cooperation and working in a group. Through the exchange of experiences with fellow volunteers, they will be able to further and enrich their knowledge. Volunteers will learn more about Slovenian culture and typical local food. Within the framework of workshops, they will develop and strengthen their creative thinking and social skills. Our goal is to strengthen children's English language skills, as well as for them to learn some new languages with the help of our international volunteers. Within the framework of Happy camp with horses, they will strengthen their teaching skills related to horses.