A journey with the peace caravan
Topic:
12: Art, culture and local history
Work Types:
Cultural heritage / Peace / Restoration, renovation
Number of places still available:
8
Free places last update:
11 May 2021
International age:
18 - 30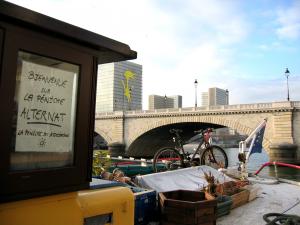 Description: 2020, SCI celebrated its 100th anniversary. To make this event special, Service Civil International France organises a travelling workcamp, "The Peace Caravan" ("La Caravane de la Paix"), which will travel the roads of France for 14 days. In total autonomy with a van, a group of international volunteers will participate in 3 short workcamps with our local partners located in different places in France: Paris, central Brittany and Lille. In between, volunteers will have the opportunity to stop and visit well-known and lesser-known tourist sites. Free as a bird! This project is financed by the European Solidarity Corps program, please check if you are eligible! (see below and on https://europa.eu/youth/solidarity_en)
Type of Work: The first international work camp takes place in the Paris region, on a barge that belonged to SCI France 30 years ago, from June 28 to July 6. They will discover how life is like on a barge and will help with the renovation of the windows and the exterior painting. In addition, they will be asked to organize events on the barge, such as a cruise and open doors. They will also lead workshops to create educational tools on different topics: water, peace and climate change. On the morning of July 6, the volunteers will head to central Brittany, to meet with the locals and visit emblematic places of peace. On the 9th of July, they will go to Lille to participate in the organisation of the SCI General Assembly, where they will also have the honour to participate in the meetings and workshops.
Study Theme: During this traveling workcamp, volunteers will be traveling in a van for joining the three different workcamps and have the opportunity to discover French regional cultures. The idea is to experience diversity and promote peace, sharing, and accepting our differences.
Accommodation: From 28 June to 6 July, the volunteers will sleep on the barge, it is necessary to take a sleeping bag, then in central Brittany (Boquen) and Lille (northern France), they will sleep in dormitories.
Language: English will be the language spoken between volunteers, but a basic knowledge of French is welcome to exchange with local community !
Requirements: Sleeping bag, work clothes. This project is financed by the European Solidarity Corps program, therefore you must be under 30 years old, from a European or neighboring country, transportation costs to Paris are covered and pocket money is given every day.
Approximate Location: The workcamp will take place in three different locations, from 28 June to 6 July in Paris, then in Boquen in central Brittany (July 6-9), and finally in Lille, northern France (July 9-12).
Notes: If you like the workcamp, don't hesitate to have a look at the website of the barge! To see what they're up to : http://www.penichealternat.org/
Organization Description: La branche française du mouvement, créée en 1936 et actuellement à Lille.