Orphanage's & Eco farming-2
This project is part of the SCI North South Programmes. Volunteers should be 20 years old, have previous volunteering experience and take part in the Preparation Workshops organised by their sending branch. More details from your sending branch.

Topic:
10: Environment protection
Work Types:
Agriculture / Work with children
Free places for Females:
5
Free places last update:
May 10, 2021
International age:
18 - 99
Extra fee to be paid in the hosting country:
250.00 US Dollar
Breakdown:
Accommodation and food: 90.00 US Dollar
Transportation: 15.00 US Dollar
Activities: 145.00 US Dollar
Hosting organisation support: 0 US Dollar
Purpose of extra costs:
Main part of extra fee used for workcamp. Also we don't have any support from Mongolian Government and other International organizations. Running cost of MCE (staffs, offices, transportation, communication etc.) is managed by the participation fees of volunteers who join workCamps in Mongolia.
Required Language:
English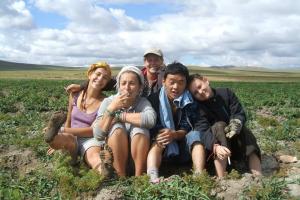 Description: Since 2000, volunteers from all over the world have been participating in summer programs designed to improve the locals and kids vegetable farm. Kids/local people work very hard for hall summer but in autumn they got very small harvest compare to their hard work. So since 2014, we trying to develop our farm more as a training center of eco farming for the local people and kids. Local people and kids could learn in our center basic but very important ecological farming methods and know/how. Volunteers will work in eco vegetable farm and develop eco farming training center. Vegetables from the eco farm will be donated to the center of orphan kids and local families.
Type of Work: Main works are helping at orphanage's and eco farm trough our work such as remove the weeds in the field, working in green house, making water canal for farm, making compost etc. Quite tiring but let's enjoy it.
Study Theme: Eco farming methods/know how of other countries. The future plan of international workcamps etc.
Accommodation: Ger (Mongolian traditional tent) or summer house. Please bring sleeping bag. Volunteers will cook/clean by turn. Music player and some card and board games are available. Shower is available too. Bed and mattress will be provided.
Language: Camp language is English. If you don't speak English well please don't worry. Many volunteers come to camp to improve their English.
Requirements: All volunteers should have 2nd doze of Covid-19 vaccine 14 days in advance before
arrive in Mongolia To like farming/physical works and be flexible/ adaptable. Mongolian speakers are welcome!
Approximate Location: Altanbulag sub-province, Mongolia. Beautiful typical Mongolian landscape area and life, 45 km far from Ulaanbaatar
Notes: Ulaanbaatar. One third of population in the country (3.01 millions) live in this capital city. Don't worry about the weather and it will be around 15-20 degree hot. But still sometimes weather could be changed quite. Also during the free days of the workcamp we will help you to organize some cultural exchange programs, excursions, etc If possible please bring some games, pencils, notebook, balls and any other things to have a fun with kids.
---
Camp Photographs