House Building In A Small Village
Topic:
3: International solidarity
Special Topics:
Climate for Peace Programme
Work Types:
Construction / Peace
Free places for Females:
3
Free places last update:
Jul 09, 2021
International age:
18 - 99
Required Language:
Spanish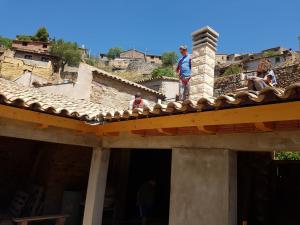 Description: Welcome to the Purujosa workcamp! We are looking forward to seeing you here and we hope that we will have a fruitful and great time together. The success of this workcamp depends on all of us – this is something we are going to do together. We expect you to come with a lot of energy and initiative – to work, to get to know new people, to get new experiences, to have fun, and to take responsibility for the camp.
Type of Work: It is the core activity of a camp that brings together the volunteers. You are expected to work seriously from 5 to 8 hours a day. The timetable depends on the project. Each camp has one or two free days weekly to do activities within the group. Some camps might have a different work time distribution. At the end of the camp you will feel proud of what you have done.
Study Theme: Internacional solidarity -construction - restoration
Accommodation: Volunteers will stay in a house in the same village. There will be a living room, mattresses, a complete bathroom and a full-equipped kitchen. The volunteers should bring sleeping bags and they will cook for themselves. Vegetarians are welcome!
Language: Spanish: a minimun level is required
Requirements: A negative Covid-19 test (PCR or antigen 72h) or a vaccination certificate is mandatory for participation in the workcamp.
The use of a mask is required.
Approximate Location: (Purujosa) Zaragoza
Notes: FREE TIME: It will depend mostly on the group's own initiative and ideas. Some projects have more financial resources than others and are able to offer some leisure activities. Others will just facilitate simple free time activities or contact with local populations. Do not expect the campleader to organise this for you.
SMOKING AND DRINKING: Smoking might be allowed in restricted areas. Use of alcohol should be always moderate and only during free time. Please, read carefully the camp description and the infosheet, since some projects do not allowed smoking or drinking at all. Use of any kind of drugs is strictly forbidden.
---
Camp Photographs