Sustainable Gardening and Community Life
Topic:
11: Climate and sustainable lifestyle
Work Types:
Agriculture / Environment / Manual
Number of places still available:
3
Free places last update:
16 Jun 2021
International age:
18 - 99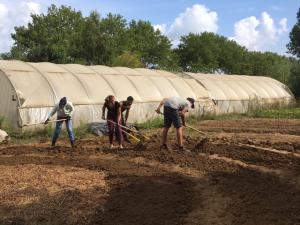 Description: "Les Cultivateurs de Liens" est une association dont les buts sont : Produire une alimentation respectueuse de l'environnement en répondant aux critères de l'agriculture biologique et plus Cultiver le lien social en ouvrant l'association à tous afin de briser l'isolement, lutter contre l'exclusion et la stigmatisation du public précaire Créer une structure de gouvernance horizontale afin d'être dynamique, flexible et progressif Diffuser les connaissances sur la culture biologique pour minimiser l'impact humain sur l'environnement
Type of Work: Volunteers will participate in eco-gardening of vegetables and fruits. The tasks will be : Harvesting, weeding, planting, watering, pruning, mulching. Realization of the beautification of the site: decoration, signage. Help with the realization of a wind turbine. Realization of a biological pond. Saturday meal preparation with the members of the association. Watch our video: https://youtu.be/Xxj7LV4upQo
Study Theme: The volunteer will learn how to grow an organic garden. This garden benefits the local members, the biodiversity and the environment. The main goal of the association is to teach some environmentally-friendly method about gardening to anyone. The association offers its members a workshop about that every Saturday.
Accommodation: the volunteers will be hebeergés while camping a few kilometers from the camp. Volunteers are requested to bring tents, sleeping bags and pillows.
Language: English will be the spoken language during the camp, some knowledge in French is welcome but not compulsory
Requirements: Bring clothes for cold, sunny/hot and rainy weather. Be prepared to work outside everyday and be aware that working in a garden during the whole day can get physical.
Approximate Location: In Wambrechies, Northern France, close to Lille
Organization Description: La branche française du mouvement, créée en 1936 et actuellement à Lille.