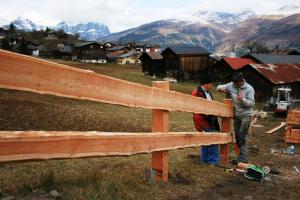 Description: The regional natural park "Pfyn-Finges "lies between Gampel and Sierre in a mountain valley of Switzerland called "Valais". As the regional instrument for sustainable development, the natural park "Pfyn-Finges" is committed to a wide range of projects: The park aspires to develop the region to be fit for our grandchildren through impulses and measures that serve to upgrade and maintain our unique natural and cultural values. Agriculture has a major influence on the landscape and the biodiversity. For this reason the natural park "Pfyn-Finges" coordinates volunteer work. At "Alp Rotigen", which is a part of the natural park, the wooden fences have been damaged through the snow slides during winter.
Type of Work: During this workcamp, we will put the fences up again and will clean the meadows.
Study Theme: History about the local alp cooperative & the tradition of moving the cows from the valleys to the local alp, as well as traditional "cow fights" of this region. The information will be given at the beginning and during the work
Accommodation: Mattresses are provided, but please bring your own bed sheets and a warm sleeping bag. Toilet and shower as well as a washing machine are provided. Volunteers will cook together. Internet is only available through mobile phones (and Switzerland still has high roaming costs).
Language: English, German & Swiss German
Notes: Leisure activities: Different kind of excursions with local guide and/or guide from the natural park. // This partner contacted us on a short notice and we want to make it happen. The camp will happen anyway no matter how many volunteers have subscribed - SCI volunteers will join the locals so whoever comes is welcome. // If someone wants and can go there already one week earlier respective three weeks in total this option exists, please announce this in your application and look then for an individual arrangement.