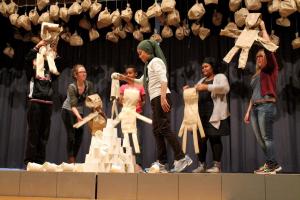 Description: SCI organizes a theatre week for kids from refugee centers around Lucerne together with children living in Lucerne. The aim of this integrative project is to give the possibility to kids from refugee centers to have a rich exchange of experiences with local kids and to improve their German language skills in a creative context. This will be accomplished with a mix of theatre playing, music and games. At the end of the week (Saturday afternoon), there will be a presentation of the work. Up to 30 kids between 8 and 13 years old will participate in the project.
Type of Work: In the preparation week (the first week of the workcamp), volunteers will receive an introduction to migration issues, theatre playing and animation with children and will prepare the activities for the second week together with a theatre expert and a music pedagogue. During the second project week, volunteers will organize games and other activities for kids, accompany them from the refugee centers to the city and back, participate in the theatre sessions / music workshops and support the kids as well as the art expert with their help. A group of volunteers will cook lunch for the group. At lunch time some local volunteers help looking after the kids, so you can recover a bit.
Study Theme: During the first week, you will have introductions and discussions on relevant issues such as migration and asylum in Switzerland and on peace work. This theoretical knowledge will be helpful for the concrete work with the children in the second week.
Accommodation: Simple accommodation with shared rooms in the centre of Lucerne.
Language: The camp language is German: level B1/B2 is required. Please write your MOTIVATION LETTER IN GERMAN. A Skype-Interview might be required to test your language skills. If we realize here that the language skills are not sufficient, you won't be accepted. Local language is Swiss-German.
Requirements: You should have interest in migration and intercultural issues, be ready to be independent, responsible and creative in your work with the kids. Be prepared that the work with the kids in the second week is really rewarding, but also requires longer hours and can be quite exhausting.
Notes: This workcamp is part of the international campaign "Building Bridges" which aims to raise awareness and stimulate the reflection about the current refugee crisis and forced migration in general. Through non-formal learning methods, participants will be able to share knowledge and experiences about the situation of refugees and asylum seekers in different countries as well as volunteering projects that locally support refugees and asylum seekers. Volunteers will be encouraged to think about how they can make a contribution to peaceful living together of people from all origins in their home town. You can see a video about the project here: https://www.youtube.com/watch?v=xMPhhITrIoI