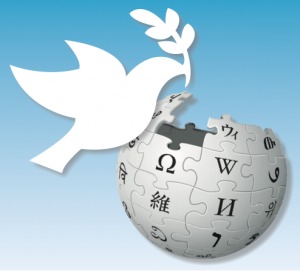 Description: The online encyclopaedia Wikipedia was started in 2001 and is today one of the most popular websites worldwide, being used by internet users all over the world for its open content created by volunteer writers. Over 38 million articles in over 250 languages exist already. This camp is the first cooperation between Wikimedia Switzerland, a local chapter of the non-profit Wikimedia Foundation, and SCI Switzerland. Similar cooperation happened in Austria and Germany between SCI and the local Wikimedia chapters before. We will get to know Wikipedia and other Wikimedia projects and will support the aim to make quality content about climate and social justice in the frame of the SCI campaign "climate4peace".
Type of Work: Doing research for Wikipedia articles, translating articles and improving existing articles in your native language (or for skilled editors writing new articles). This year we will mainly translate and improve articles on climate and social justice. The project organizers will prepare a list of articles about grassroots movements and a focus more one female activist. It is crucial that you are interested in climate protection, social justice and peace issues and web culture, that you like writing and that you like to do research on your own and in groups. You don't have to have knowledge on Wikipedia already.
Study Theme: There will be a big emphasis on studying in this workcamp. We will learn how to write good Wikipedia articles and take pictures for Wikimedia projects. We will learn about the principles behind Wikimedia projects as well as free licences/open content philosophy in general. We will learn about climate and social justice and its connection to peace - through your own research, through exchange with other participants and through external inputs.
Accommodation: We will intentionally live a simple and sustainable lifestyle during the workcamp. The old art-nouveau villa houses up to 16 people and provides workshop rooms, the kitchen and social living space. There are dormitory rooms with beds, bed sheets, blankets and pillows. Meals will be vegan – please inform you beforehand about recipes to get familiar with it; SCI volunteers are in charge of cooking and cleaning. A washing machine is available. Please be aware that the house is rather cold, there is a dog and a cat. There is an opportunity to camp outside in your own tent, if the weather allows.
Language: We will speak English in the group. You can write Wikipedia articles in any language you want. We encourage you to write in your native language. The people of the hosting community speak German, French, Spanish, Serbo-Croatian and of course English. The local language is French and Swiss German.
Requirements: Since this workcamp is supposed to be as environmentally-friendly as possible, you are not allowed to travel by plan. Please provide us your ticket as soon as you booked for to prove that you are not coming by airplane – only then you get the detailed info sheet for the workcamp. Please write a motivation letter to specify your interest in this work and your plan for follow up work after the camp
Approximate Location: Mont-Soleil is a small hamlet at the edge of the Franche Montagne high-plateau in the Jura mountains of Switzerland. It is part of the community of St-Imier.
Notes: Take a look at the former workcamp:
https://meta.wikimedia.org/wiki/Wikipedia_for_Peace_Switzerland_2019 Mont-Soleil is a small hamlet at the edge of the Franche Montagne high-plateau in the Jura mountains of Switzerland. It is part of the community of St-Imier. Mont-Soleil is known in Switzerland for its educational eco-tourism offerings and as a show case for solar and wind energy technologies and installations as part of the Swiss Energy Park. It is at the heart of Chasseral Nature Park. The Décentrale is situated a 2 minutes' walk from the cable railway, offering a 4 minute ride down to St-Imier, the small town 400 meters below in the valley, with its Espace Noir autonomous culture center and small commerce.