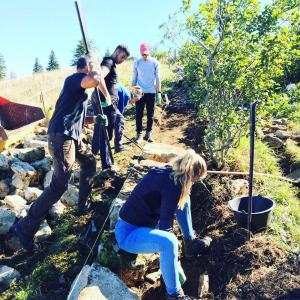 Description: Young adults (18 - 25) from Switzerland, Ireland and Northern Ireland, Israel and Palestine come together in the Italian part of Switzerland. You will explore the life and culture of the other participants, discuss conflicts and challenges around borders and walls in the different countries, cook together and experience the Swiss cultural heritage by building a dry stone wall in the mountains.
Type of Work: Around 7 days of the activity will be reserved for learning to work with stones and building the wall by hand.
Study Theme: Together with our friends from Ireland, Northern Ireland, Israel and Palestine we will exchange, discuss and present the intercultural challenges and both visible and invisible borders between the cultures in different countries.
Every day there will be one workshop where we will have an intercultural session in order to get to know each other's culture better.
Accommodation: The accommodation is called "Campo Cortoi", a beatiful and authentic collection of ancient stonehouses up in the Ticino Alps. People will have to bring warm sleeping bags and clothes for the night. Matresses and pillows will be provided. Toilets and showers with hot water are available. No washing machine and no electricity in the sleeping rooms is provided, also no internet is available in the mountains. At the end of the week, we will invite the group to spend the weekend in the city of Locarno. There, electricity and internet is provided.
Language: Local language is Italian.
Requirements: Participants must be able to do physical work and to walk in the mountains (around 1 hour walk uphill per day). People will need proper warm outdoor and nature gear and clothes for working in the nature with hands, proper boots.
Notes: • What to bring? For work, it is necessary to wear hiking or working boots. Height above the ankle. Working clothes that can get dirty including a raincoat and if it is available rain pants. A backpack or similar is recommended to carry your stuff during workdays and leisure activities • Due to sponsorship restrictions in this workcamp for the volunteers from Switzerland it is relevant that you have your residency in Switzerland - otherwise you are not eligible (in that case chose another workcamp without restrictions as this is usually the case in SCI workcamps). • SCI Switzerland believes in revitalisation of the mountain areas and intercultural exchange opportunities.