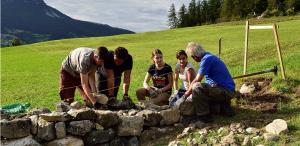 Description: Parc Ela is a regional nature park in the east of Switzerland in the canton of Graubünden. It is located in the middle of the Alps. The nature parks organization is committed to preserve the cultivated landscape, support local sustainable economy and cultural heritage. The park maintains diverse wildlife from 745 to 3418 meters above sea level. One of the Parc Ela projects is to maintain and reconstruct dry stone walls that characterize the landscape and historic routes for centuries.
Type of Work: Together with professionals from Parc Ela, you will reconstruct dry stone walls along historic roads. Dry stone walls are built only with stones. Although no concrete or cement is used to build walls, it can last for centuries. You will learn a handcraft that is known for generations. You will help us to preserve this cultural heritage which provides biotopes to highly adapted plants and animals.
We also promote the maintenance, care and protection of the alpine biodiversity by supporting organic farmers and their daily work.
Study Theme: Every day you will receive various inputs with interesting information about your tasks, local wildlife and regional history. Topics will be adapted to the volunteer's interest. These informative inputs will be an integral part of your work time and last up to an hour per day.
Accommodation: All volunteers will stay in an accommodation with sleeping rooms with up to 4 people. Mattresses, blankets, and bedsheets will be provided. The accommodation is fully equipped with one toilet, one shower and a washing machine. Volunteers cook on their own with food that can be bought at the local grocery store.
Access to the Internet can not be guaranteed at all times. If it is necessary we can provide a mobile hub for several hours a day.
Language: Local languages are Romansh (regularly spoken by only 60'000 people) and German
Requirements: A good physical constitution is recommended. You don't have to be an athlete but motivated to work outside.
Notes: A romansh teacher will visit the volunteers and give them an introduction to the language. A guided tour to explore alpine herbs. Some are eatable, some are medicinal herbs and some are just beautiful to look at.