Let's Clean Up Portugal's Coast!
Topic:
10: Environment protection
Special Topics:
Climate for Peace Programme:
Work Types:
Environment / Manual
Number of places still available:
0
Free places last update:
26 Apr 2018
International age:
18 - 99
Extra fee to be paid in the hosting country:
0.00 Euro
Required Language:
English
Motivation letter:
This camp requires an additional motivation letter to explain in more detail why you would like to attend.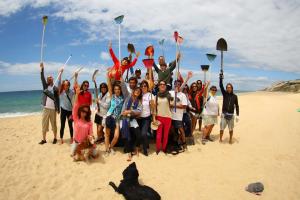 Description: During this week, volunteers will play a very important role cleaning up the Portuguese coast from Tróia until Melides. Although these are absolutely stunning beaches, there is still a lot of waste to remove. While participating on this workcamp as a volunteer, you will be protecting biodiversity and the coastline while also creating awareness for environmental conservation. And, of course, you will have the chance to experience the beautiful Portuguese beaches and culture!
Type of Work: This workcamp is very manual and you really need to be in good physical condition! Other than that, you will have a great time cleaning up wonderful beaches in a group. You will be with other international volunteers, but also local volunteers, so you can connect with the culture. The type of waste found on these beaches is diverse and you will always have a coordinator and local people guiding you on the best strategy.
Study Theme: You will learn about environmental protection, especially the coastline.
Accommodation: You will sleep either in tents or in bungalows in Galé camping: http://campinggale.com/bungalows/fotos/ which has these amazing views: http://tinyurl.com/haodowv. Food is also provided.
Language: The local language is, of course, Portuguese. If you speak Portuguese or Spanish, it will help a lot to connect with local people. However, most everyone speaks at least basic English, so this is the required language.
Requirements: You have to be in great physical condition, love environment and being at the beach. Please bring your sleeping bag!
Approximate Location: Beaches of Galé, Tróia, Comporta, Carvalhal, Pego
Organization Description: Para Onde is a Lisbon-based organization that is mainly focused on promoting social inclusion through volunteering. It was born in 2014 as an informative website and, at the end of 2016, it became an active NGO. Para Onde will allow everyone to have the experience to volunteer abroad despite age, budget and professional background/experience. Suitable training will be guaranteed to all those departing on an experience with SCI International.