The secrets of Medzhybizh fortress
Topic:
12: Art, culture and local history
Work Types:
Archaeology / Cultural heritage / Manual
Free places for Females:
3
Free places last update:
02 Jul 2018
International age:
18 - 99
Extra fee to be paid in the hosting country:
0.00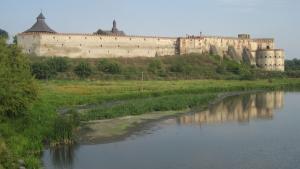 Description: the purpose of the camp is to support the State Historical-Cultural Preserve "Medzhybizh", where devoted and friendly people are working. The place represents the beautiful nature of Podillia and it's sophisticated and picturesque history. The camp takes place in the ancient fortress, that located on the Southern Buh and Buzhok rivers. This is the first time, that the place hosting an SCI camp, however each of the year international conferences are taking place there and hundreds of volunteers from different countries are coming on their own to help the project.
Type of Work: The areas of work are: helping around the museum, working in scientific library, archaeological and restoration works. However the main focus will be on support of scientific archaeological research. Archeology is not an easy science, but definitely one of the most exciting and romantic one! Pictures of work, leisure and sightseeings of Medzhybizh you may find on a website for the volunteers: http://vik-vetrov.wixsite.com/archaeology.
Study Theme: You will learn the basics of archaeological work and interesting facts about paleolit period. The picturesque history of the region, that was under Lithuanians, Crimean Tatars, Turks, Russians, Hungarians and Polish will be discovered during the camp. On a territory of the fortress there is a museum of Holodomor, that contains many artefacts and documents that represents the story of the tragedy. One more topic is the Jewish Hasidic mystical religious movement, whose founder Baal Shem Tov is buried in a town and a lots of Jewish heritage. The camp's program is fully packed with the variety of
Accommodation: The volunteers will sleep in tents on a territory of fortress. Toilets, showers are outside, a kitchen is in the house. Please bring your own mattress and sleeping bag.
Language: Russian and Ukrainian
Approximate Location: Medzhybizh town, Khmelnytskyi oblast, Western Ukraine. It is located in 36 km from Khmelnytskyi. Medzhybizh is a small and full of sightseeing town.
Organization Description: SVIT-Ukraine is the Ukrainian branch of SCI