Topic:
13: Community life
Work Types:
Language study / Social
Free places for Females:
6
Free places last update:
Dec 08, 2021
International age:
18 - 26
Extra fee to be paid in the hosting country:
120.00 Euro [122 US Dollar]
Breakdown:
Accommodation and food: 0.00 Euro
Transportation: 0.00 Euro
Activities: 0.00 Euro
Hosting organisation support: 120 Euro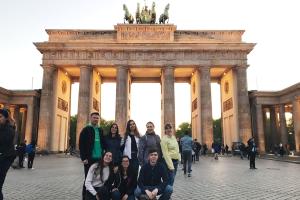 Description: https://www.vjf.de/https://www.im-maxim.de/
Type of Work: Berlin has many projects focussing on sustainable living and connecting the people living in each Kiez . Kiez is a German word that refers to a city neighbourhood, a relatively small community within a larger town. The word is mainly used in Berlin and northern Germany. We will get to know different places and the story behind them and if possible work with them and/or support the project.
Accommodation: Accommodation: You will live in heated bungalows in the Projekt- und Begegnungsstaette of VJF. In the bungalows you will find your own bathroom with a shower and WC. You will get bed linen, there is no need to bring a sleeping bag with you. You will have the chance to prepare your own meals in a small kitchen at the centre.Self catering:The participants are responsible for their own catering. You will buy food and prepare the food yourself in a small kitchen.
Language: eng,
Requirements: Covid-19: You have to be vaccinated or recovered.Please bring FFP2-Masks with you. There will be antigen testing in the camp every 2-3 days.
Approximate Location: You are accommodated in the Projekt- und Begegnungsstaette of the Association of Young Volunteers. The small bungalow village is located directly on the banks of the Langer See in Berlin. It s a quiet place, a bit away from the center of Berlin, but with a good infrastructure.Free time: The free time activities are determined by the participants at the beginning of the camp. Please inform yourself beforehand what you would like to see in Berlin and bring your suggestions with you
---
Camp Photographs