Online Camp: Future unwritten? – What kind of world do we want to live in?
Topic:
4: Peace and disarmament
Work Types:
Environment / Peace / Study, discussion, research
Number of places still available:
1
Free places last update:
Nov 03, 2021
International age:
18 - 27
Required Language:
English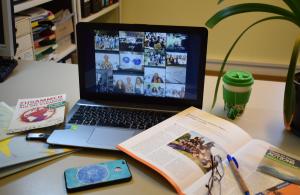 Description: Woran denkst du, wenn du an deine Zukunft denkst? Worauf freust du dich? Hast du Ängste oder Sorgen - auf persönlicher Ebene, aber auch auf sozialer, politischer und globaler Ebene? Was wünschst du dich für deine Zukunft und für die Zukunft unseres Planeten?
Im Rahmen des diesjährigen digitalen Süd-Nord-Projekts wollen wir junge Menschen aus Ländern des Globalen Südens und Deutschland zusammenbringen, um sich über ihre Wünsche und Sorgen für die Zukunft auszutauschen. Beschäftigen sie dieselben Probleme oder sehr unterschiedliche? In was für einer Welt wollen wir leben? Inwieweit hat meine Lebensweise Auswirkungen auf die Menschen und die Umwelt in anderen Teilen der Welt?
Type of Work: Zwischen dem 1 und 13 Nov 2021 werden wir diesen und vielen anderen Fragen nachgehen. Wir wollen unsere Gespräche und Diskussionen auf kreative Weise festhalten (malen, basteln, Videos drehen), die wir mit Schulen teilen können, um auch junge Menschen zu ermutigen, über die Zukunft nachzudenken und mehr über internationale Perspektiven aus dem Globalen Süden zu erfahren. Wir werden uns jeden Tag von 11Uhr bis 2Uhr treffen. Neben Diskussionen über verschiedene Themen wie Klimawandel, Frieden und Nachhaltigkeit wird es auch genügend Zeit für persönlichen Austausch, Spiele, Musik geben.
Study Theme: Aktive Teilnahme an allen Online-Sitzung, ggf. "Hausaufgaben" für die Sitzungen vorbereiten: recherchieren, Texte lesen, Gruppenarbeit; kreative Arbeiten.
Erarbeiten des Themas in einer internationalen Gruppe; Austausch von unterschiedlichen Perspektiven und Erfahrungen.
Accommodation: Keine Unterkunft erforderlich.
Language: Englisch
Requirements: Ausstattung mit Computer/Laptop mit Kamera und Headset; stabile Internetverbindung; Teilnahme an den täglichen Online-Treffen (3h).
Notes: Die Vermittlungsgebühr für das Projekt beträgt 30,00€. Für dieses Projekt gibt es ein besonderes Anmeldeformular. Bitte in der Geschäftsstelle telefonisch oder per E-Mail unter laura.wille@sci-d.de nachfragen.
Organization Description: This workcamp is organized by the German branch of Service Civil International (SCI). SCI Germany was founded in 1946 and is approved as a non-profit organisation. We are one of the oldest peace and volunteer organisations. SCI Germany aims to promote peace, non-violence, international solidarity, social justice, sustainable development and cross-cultural exchange through international voluntary work. We cooperate with a network of branches and partners in more than 90 countries. Every year, SCI Germany organizes about 50 international workcamps in Germany.