Children and Youth in Forced Labour during World War II - Trilateral German-Russian-Ukrainian Online Work- and Studycamp with Gestapokeller and Augustaschacht Memorials
Topic:
1: Antiracism, antifascism, remembrance
Number of places still available:
7
Free places last update:
Feb 14, 2022
International age:
15 - 99
Required Language:
English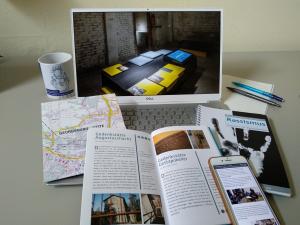 Description: Support the Augustaschacht memorial in making visible and remembering the stories of forced labour of children and young people during the Second World War.
Four afternoons a week, you will meet online with international volunteers. With professional guidance, you will get to know the memorials and historical sites. In workshops you will learn about biography work. Based on selected biographies, you will learn about children and young people who were forced to work in Nazi Germany. In addition to the group meetings, you will work individually or in small teams according to your skills on research, translation or transcription.
Another focus is on community and strong group cohesion among the volunteers. You are welcome to bring in own activities for the group!
Type of Work: You and other volunteers work together online to prepare the story of a young forced labourer in the Osnabrück region.
According to your abilities, you transcribe text fragments of a biographical interview with a former forced labourer, help with translations where possible, put the fragments together, put them in relation with historical context which you researched, and thus, together with the group, jointly trace the biography of this person in order to preserve it for the future. The joint volunteer project will be included in the memorial's exhibition and thus serve further documentary and educational purposes.
The joint volunteer project will be included in the memorial's exhibition and thus serve further documentary and educational purposes.
Study Theme: Using concrete examples, you will deal with forced labour and Nazi history as well as their causes and consequences. This year, the focus is on children and young people who experienced war and the Holocaust in the more than 500 forced labour camps controlled by the Gestapo in the Osnabrück region.
You will take part in digital guided tours of historical sites, including the Augustaschacht and Gestapokeller memorials and their permanent and special exhibitions. You will learn about biographical work in professionally guided workshops.
Accommodation: You can arrange to meet other volunteers online to cook and try favourite recipes together!
Language: Good knowledge of English required; knowledge of Ukrainian or Russian is an advantage, but not a requirement.
Requirements: - Technical equipment (see below)
Willingness to participate reliably for the entire duration (12 days, including 8 fixed days and times for group meetings)
Knowledge of the usual office programmes necessary, knowledge of transcription tools would be great
Sensitivity to the topic of remembrance, interest in different historical perspectives and cultures of remembrance
Approximate Location: we do not deny other interested volunteers access, but let them know that in case there will be free places, they can still join, only that priority will be given to those from the three countries.
Notes: Please bring sensitivity for the topic of memorials and an interest in historical reappraisal and different perspectives. In addition to the study and work parts, the international online format offers an opportunity for exchange about different historical perspectives and cultures of remembrance and for understanding today's challenges. You can expand your language skills and make contacts with people in other places. Your own ideas enrich the project. We have already had joint yoga sessions, chocolate design, movie nights, cooking evenings, DIY workshops, dance parties... Don't be shy and get involved with your creativity!
Anyone can join the study camp, but priority will be given to German, Russian, Ukrainian nationalities and for people who have residency in these countries.
Organization Description: This workcamp is organized by the German branch of Service Civil International (SCI). SCI Germany was founded in 1946 and is approved as a non-profit organisation. We are one of the oldest peace and volunteer organisations. SCI Germany aims to promote peace, non-violence, international solidarity, social justice, sustainable development and cross-cultural exchange through international voluntary work. We cooperate with a network of branches and partners in more than 90 countries. Every year, SCI Germany organizes about 50 international workcamps in Germany.

---
Camp Photographs