SEEDS 043. Botanical Gardens in Reykjavík (3/4)
Topic:
10: Environment protection
Work Types:
Environment / Manual
Free places for Females:
0
Free places last update:
Apr 06, 2022
International age:
20 - 99
Extra fee to be paid in the hosting country:
300.00 Euro [322 US Dollar]
Breakdown:
Accommodation and food: 220.00 Euro
Transportation: 20.00 Euro
Activities: 60.00 Euro
Hosting organisation support: 0 Euro
Purpose of extra costs:
Participation/Extra fees support the ongoing work of SEEDS. For this particular camp, the fees are used for provision of food and accommodation, some extra free time activities & transport from the meeting point.
Required Language:
English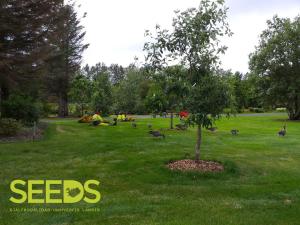 Description: This is the twelfth year in a row SEEDS offers projects in the Botanical Gardens in Reykjavík. The Botanical Gardens are an outdoor collection of living plants, founded in 1961 and it celebrated its 60th anniversary in 2021. The gardens' main role is to conserve plants for education, research and delight. They conserve some 5000 plant species in eight plant collections. The collections give an idea of the enormous diversity of vegetation in the northern temperate zone. The garden is open to the public and free of charge.
Volunteers have to be motivated to start work early in the morning, but in compensation they will have more free time in the afternoon.
Type of Work: SEEDS volunteers will be doing general park maintenance and assisting the horticultural staff tending to the collection of perennials, alpine trees and shrubs in the garden. The garden organises guided tours and events throughout the summer, the volunteers may assist in their preparation. These special events are all related to the general aim and work of the garden and some of them are carried out at short notice.
The work can be repetitive as general gardening tasks tend to be and most of it is outdoors. The project starts early every weekday: working hours are from 8:00 - 15:00, except on Fridays, when work finishes at 12:00 as a part of an ongoing research into shortening the working week.
Study Theme: No previous experience is necessary. As it is outdoor work, volunteers must be ready to adapt and be flexible with the working and free-time schedule, as depending on the weather, we may not be able to perform some of the tasks or activities planned.
Visitors easily experience the pure energy at the heart of Iceland's capital, whether from the boiling thermal energy underground, the natural green energy within the city and around it, or the lively culture and fun-filled nightlife.
Accommodation: SEEDS volunteers will stay in an equipped house, in a beautiful setting in the Botanical Gardens of Reykjavík, which are located about 4 kilometres from the centre of the city. The facilities are basic with a kitchen, showers, and a washing machine. Everyone is expected to show consideration for their companions. Participants will sleep in shared rooms or dormitories. Please bring your own sleeping bag.
Please note that participants from other projects may also be staying in the same house. Volunteers will receive food supplies and be in charge of cooking and cleaning.
Language: English will be the official language in the camp; high proficiency is not a requirement.
**Accomodation: Do not forget to bring some traditional/typical food, drinks, recipes, music, games or movies from your country for the international evening. Please be aware some items or ingredients may be expensive in Iceland and you will need to buy them yourselves or bring them from your country.
Requirements: Participation fee EUR 300 (Euros). The fee can either be transferred in advance via bank transfer, or paid in cash on arrival. It includes transportation from the meeting point to the camp (on the first day) and the Golden Circle excursion.
Approximate Location: Reykjavík is a dynamic, modern city which lives in harmony with nature, using renewable energy sources such as geothermal power. About two thirds of the population of Iceland live in Reykjavík including the metropolitan area; over 200,000 people. The world's northernmost capital bridges the Atlantic, between Europe and North America. Reykjavík is spread across a peninsula with a panoramic view of the mountains and the Atlantic.
Notes: Other excursions (South Shore, Hot River Hike, Snæfellsnes or Reykjanes Peninsula) can be arranged at discount fares for SEEDS participants in case there is additional free time after work or during the weekends.
Participants in this camp will have a free pass to access one of the largest swimming pools in Iceland, situated within walking distance from the camp's accommodation.
Weather may be cold or rainy, so we recommend bringing good walking shoes/boots, warm and/or waterproof clothes (underlayers, overcoats, scarves, gloves and hats) as most of the tasks and activities take place outside.
Organization Description: SEEDS is an Icelandic non-governmental, non-profit volunteer organisation designed to promote intercultural understanding, environmental protection and awareness through work on environmental, social and cultural projects within Iceland. SEEDS works closely with local communities, local authorities and other Icelandic associations both to develop projects in partnership, aimed at fulfilling an identified need, and to give assistance to established initiatives. Projects are designed to be mutually beneficial to all involved: the volunteers, the local hosting communities and Iceland as a whole. Every year host more than 1200 international volunteers from 50 to 60 different countries.