Learning about sustainable lifestyle by doing @ the Ecocenter Oasis
Topic:
11: Climate and sustainable lifestyle
Work Types:
Construction / Manual / Restoration, renovation
Number of places still available:
0
Free places last update:
Jul 05, 2022
International age:
18 - 99
Required Language:
English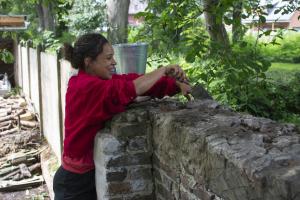 Description: "Oasis" is an eco-citizen center for training, learning and research in applied ecology. It is a place for encounters, exchanges, exhibitions and conferences. It was created in 2013 and it is located in Quaregnon, near Mons. The aims of the center are to show that there are ecological alternatives applicable in all areas of daily life. To reach those aims, "Oasis" organizes various types of training and workshops: introduction to organic gardening, permaculture, natural cosmetics and soaps, sourdough bread and pizza baked in their own bread oven, cheese, dry toilets, basketry, clay coating, vegetable dyes, jewelry from recycled materials, etc. Events are also set up: thematic evenings, conferences, reflection workshops, barter, etc.
Type of Work: One of the topics addressed by the center is eco-renovation, which will be the projects main subject. Participants will get involved in the ecological renovation of the place, focusing on re-using as much as possible, in order to show that renovating a building in an ecological way without spending huge sums on technology is possible. "Oasis" recently moved to a new site, so everything has to be done. The volunteers will mainly carry out layout, clearing, renovation (natural coatings with clay and lime) and cleaning of the place. There will also be various outdoor layouts such as the construction of a greenhouse as well as various works in the garden.
Study Theme: Environment and eco-renovation. The themes explored are food, permaculture, urban agriculture, re-use, ecological building renovation, energy, water management and participatory construction sites, culture and the arts associated with these themes, environmental awareness. The philosophy of "Oasis" is based on both a global and a local approach. It lies in the now well-known formula "think globally to act locally". It is not limited to the transmission of technical recipes, but seeks to articulate in a coherent way reflections and actions.
Accommodation: The accommodation will be in very basic conditions: under tent in the garden of the Ecocentre (take tent, mattress, pillow and sleeping bag). Large tent provided for meals and closed room accessible in case of bad weather. Sanitary areas covered outside equipped with a basin, a mini solar shower, cold water and dry toilets. The food will be exclusively vegetarian.
Language: English
Requirements: For volunteers who like physical work and who are ready to live the project outside in camping mode, knowing that the weather in Belgium can sometimes be rainy. It is therefore necessary to be well equipped.
Approximate Location: Quaregnon, near Mons, is a town located 70 km away from Brussels, in southern Belgium. Mons was the European Capital of Culture in 2015. For more information on the city and tourism: http://www.visitmons.be/ The train coming from Brussels stops at Quaregnon (2 stops further than Mons). Quaregnon is a very popular and a dynamic multicultural town.
Notes: Additional fee : Many SCI workcamps will have an additional fee of €50.00. This will cover - local hosting costs; International insurance costs of the volunteer; a small travel fund to enable disadvantaged volunteers to join projects; administration costs of SCI International. If you apply through an SCI branch, the fee will be included in the fee you pay to your sending branch. If you apply through a partner organisation you will pay the fee on arrival at the project; direct to the hosting branch or through a PayPal transfer system. When accepted on the project the host branch will give you more details of the various payment options.